Before Fierce: Remembering Fashion Illustrator Tony Viramontes
An Amazonian woman draped in exotic materials stands before him trying to change her pose as rapidly as the young artist finishes another drawing. His vibrant eyes move over the model capturing more than the newest fashion in which she is adorned; he is able to put on the page a bold and palpable as well.
When Viramontes worked, he did so in a fervor.
Frank Anthony Viramontes was born in Santa Monica, California to first generation Mexican parents. Having an artistic inclination at a young age, Tony drew everything from cheerleaders to matadors, finding himself enamored by their bright garments. His supportive parents would bring young Tony along to bullfights in nearby Tijuana where he developed an intense appreciation for elegant yet brash masculinity.
The way in which Tony would work in fashion illustration throughout his career was reminiscent of the toreador's movements that he studied as a boy. Seizing the aggressive and energetic styles of the 1980's came naturally to him. With the slashing stroke of his charcoal pencil, he was able to say more in the movement of his line than a photograph ever could.
Tony Viramontes Fashion Illustration – October 1984 – "Bold, Beautiful and Damned: The World of 1980s Fashion Illustrator Tony Viramontes"
Fashion illustration had its time in the limelight during the midcentury when the delicate and detailed works of René Bouché and Erté were swooned over by Vogue and Vanity Fair. These publications would continue to feature fashion illustrators but with the rising popularity of photography, the demand of drawings declined.
This did not stop Tony Viramontes from following his passion, however, and he moved from Santa Monica to New York to attend the famous Parsons School. After an important relocation to Paris, he quickly discovered commercial success and began work with a multitude of houses and publications.
He would go on to illustrate for such legends as Karl Lagerfeld and Yves Saint Laurent, as well as publications like Harpers Bazaar, Marie Claire, and Vogue Italia.
His collaborations were at the furthest edge of trending couture. He continued to push his artistic boundaries by collaging in his sketches with his photography to create striking and innovative new pieces.
Viramontes was not confined to the world of fashion and many of his most known pieces are for musicians. In 1986, he showed a new audience his talents by illustrating the cover art for Janet Jacksons' album Control. Duran Duran listeners became familiar with his work as well when he did the illustrations for their album Arcadia.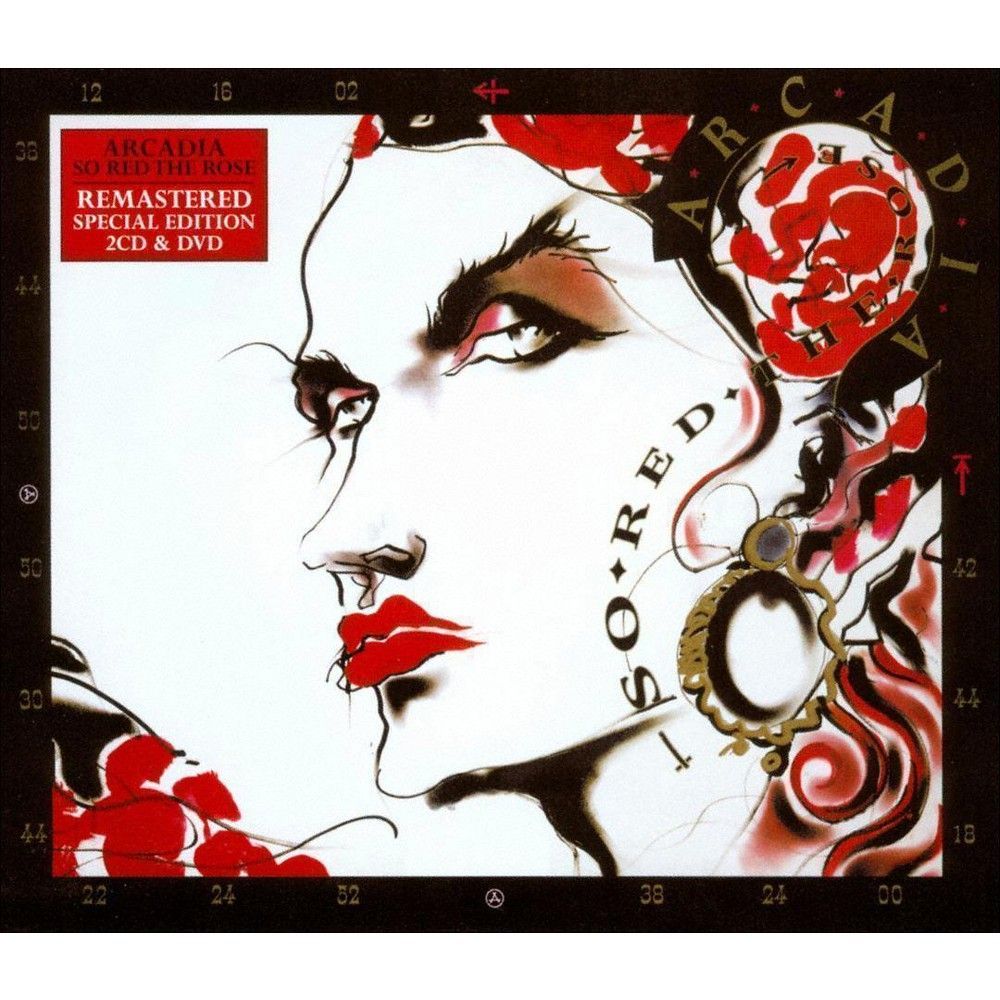 Viramontes did not want to be pigeonholed into the simple title of "illustrator." In personal works of portraiture, he stood apart as truly unique artist. In these pieces, Viramontes experimented with an androgynous style that the world had yet to see. Giving young, sculpted Adonic men a curl of snarky red lips combined with bejeweled adornments, he offered viewers a new take on masculinity.
When drawing women, Viramontes preferred to depict them with strong, angular faces and prominent noses. Often these beautiful women were shown with contorted expressions of rage rather than demure or natural looks. For both men and women, he challenged viewers by offsetting their perception of beauty within the confines of gender.
'Bold, Beautiful and Damned: The World of 1980s Fashion Illustrator Tony Viramontes' by Dean Rhys Morgan and published by Laurence King Publishing, celebrates the artist's work and life.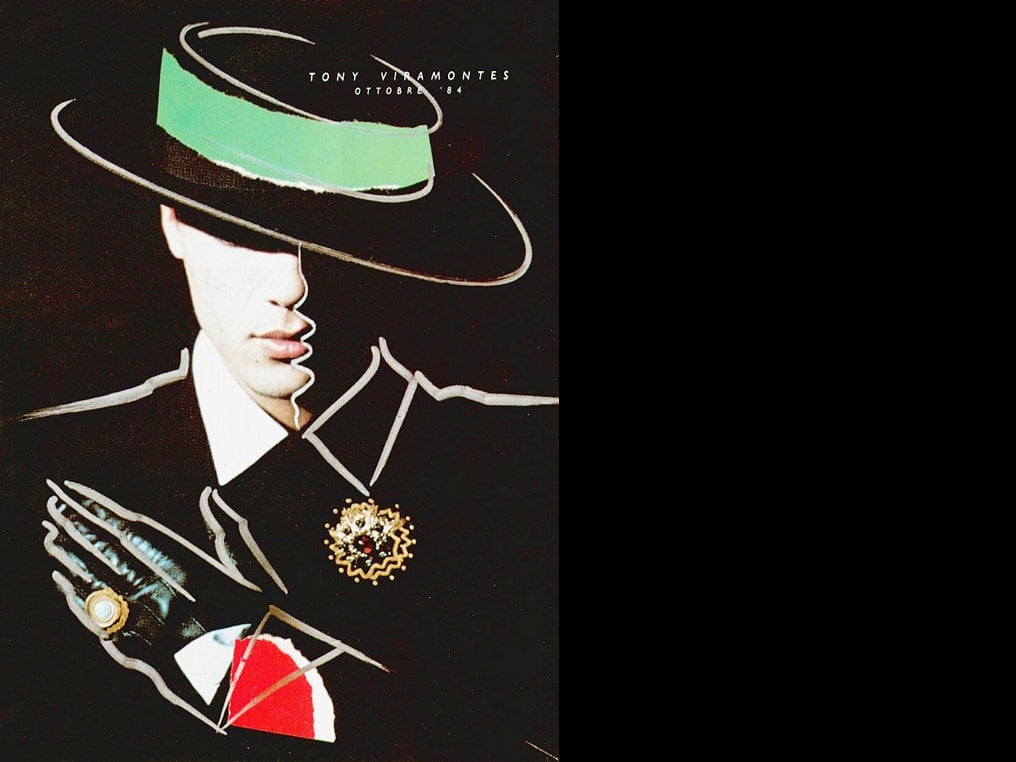 THE FACE, SEPTEMBER 1985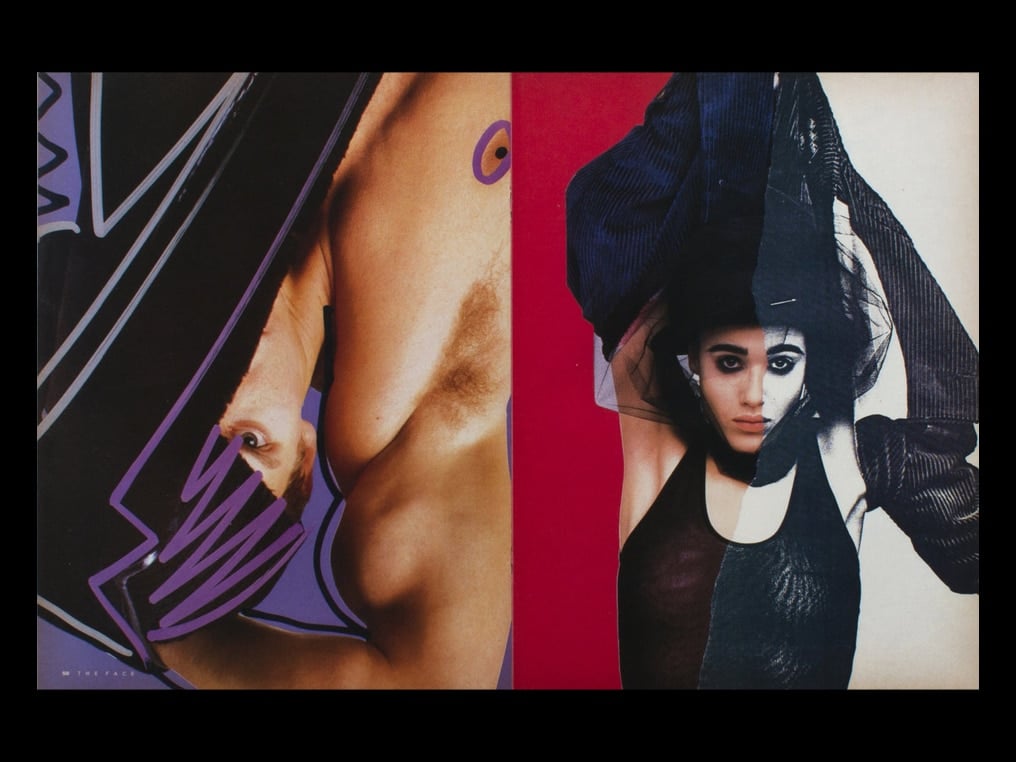 WALTER SHUPFER BY TONY VIRAMONTES, RIGHT: THE FACE, SEPTEMBER 1985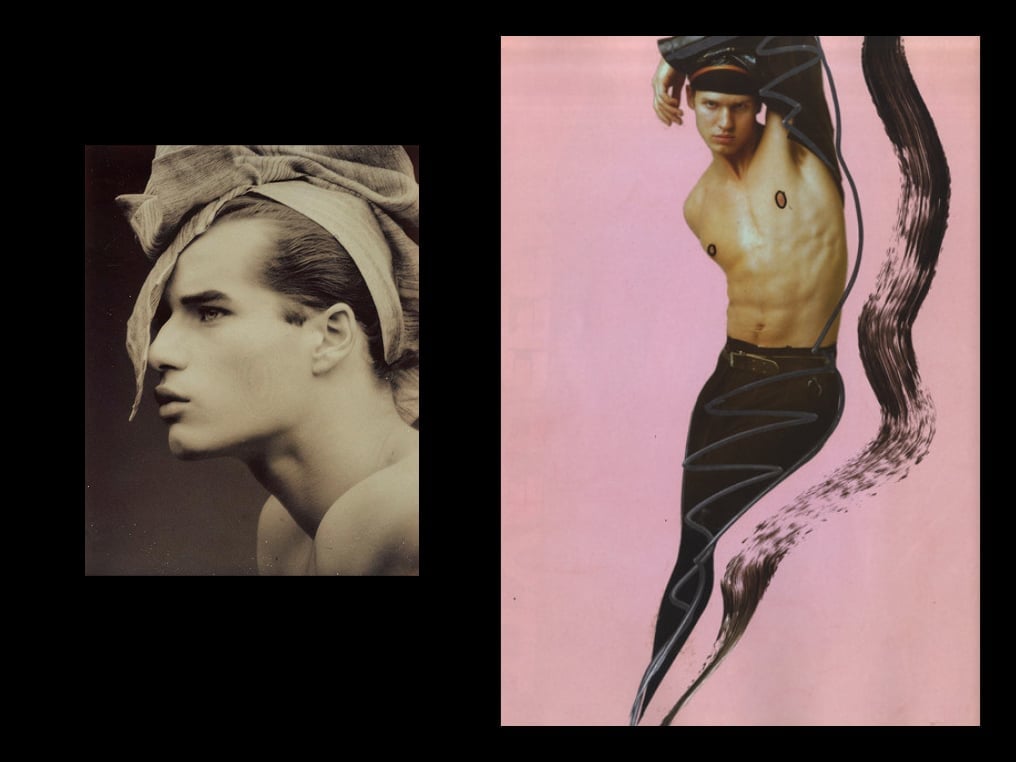 MIMI SHOT BY FASHION ILLUSTRATOR TONY VIRAMONTES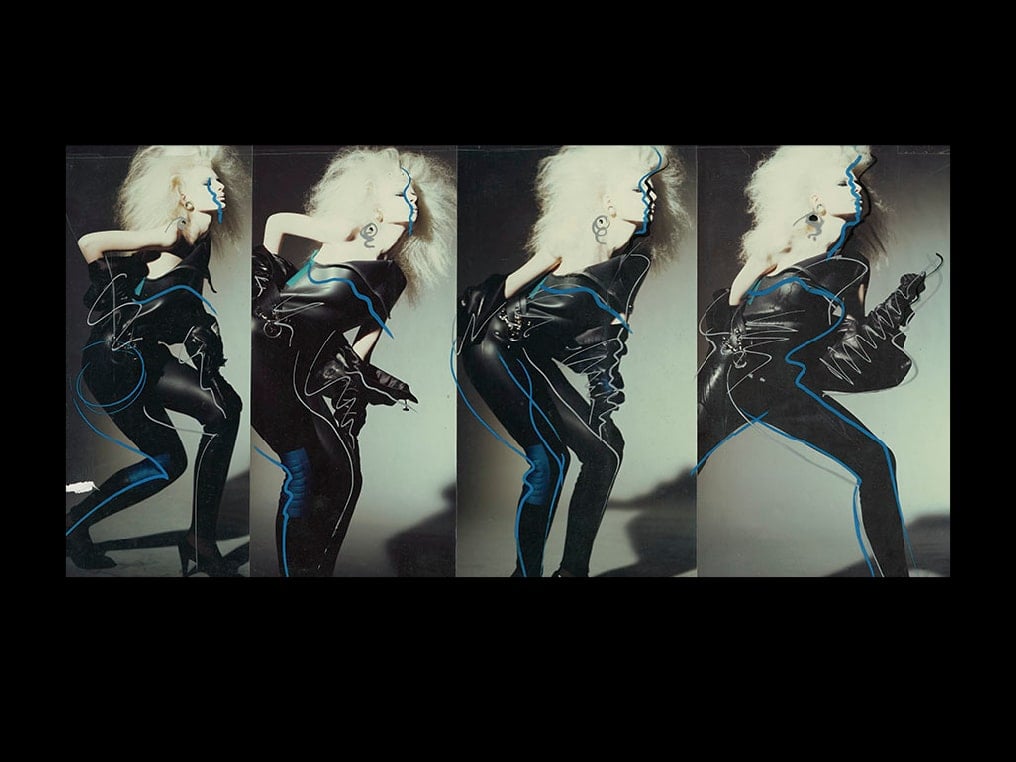 FROM THE BOOK "Bold, Beautiful and Damned: The World of 1980s Fashion Illustrator Tony Viramontes"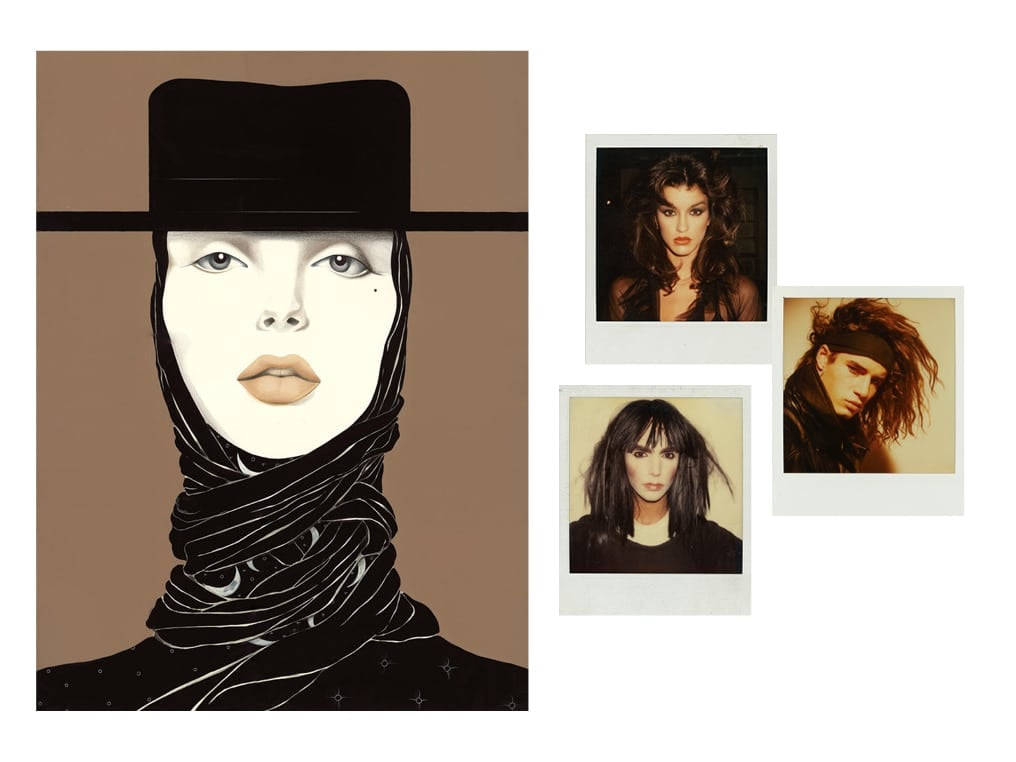 FROM THE BOOK "Bold, Beautiful and Damned: The World of 1980s Fashion Illustrator Tony Viramontes"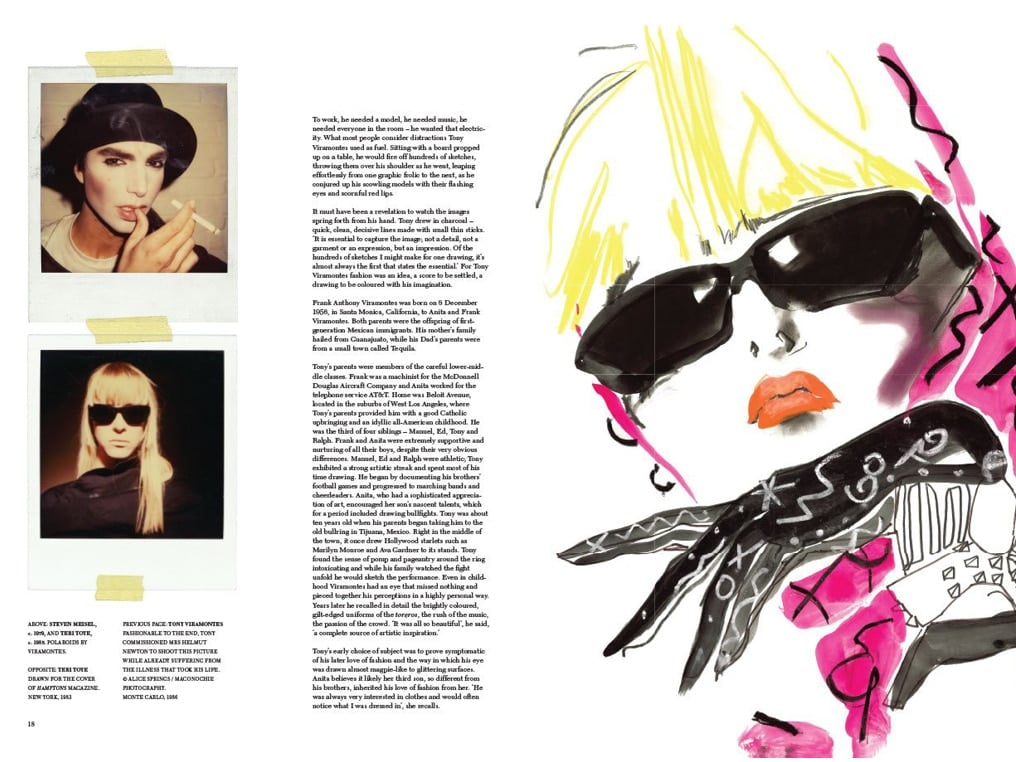 Surrounding himself with the likes of Janice Dickinson, Naomi Campbell, and Paloma Picasso, muses were never in short supply (male or female), and he immersed himself in his art and as well as partying. Viramontes' work represents an important, slightly hedonistic embracing of the wild.
His perfect portrayal of the excessive nightlife of the 1980s was a result of Tony Viramontes being a part of the glitterati, spending much of his time in the nightclubs of New York and Paris.
He, like many other young gay men of the 1980s, fell victim to the AIDS virus and died at the age of 33. The pain of losing such an immensely talented young man as Viramontes was not a loss felt just by his contemporaries.
Energy pulses in his work, each line flowing with movement and attitude. You can envision his hand rapidly sketching out eyes, hips—a ribbon of color. Because he, the models, and the era were all so present within his material, his images have a timeless quality that makes them immune to antiquation.
His influence reverberates continuously throughout fashion illustration as well as in the global artistic community.
The tides are turning in the 21st century and words like, transgender and homosexual are no longer whispered. Gay rights are finally moving in the right direction and what impact this will have on current and future artists can only be anticipated. If Tony Viramontes had not died so young, this certainly would be an exciting time for him. One cannot help but wonder what his career would be like if suddenly his striking images were seen by larger venues and recognized as the exciting triumphs they really were.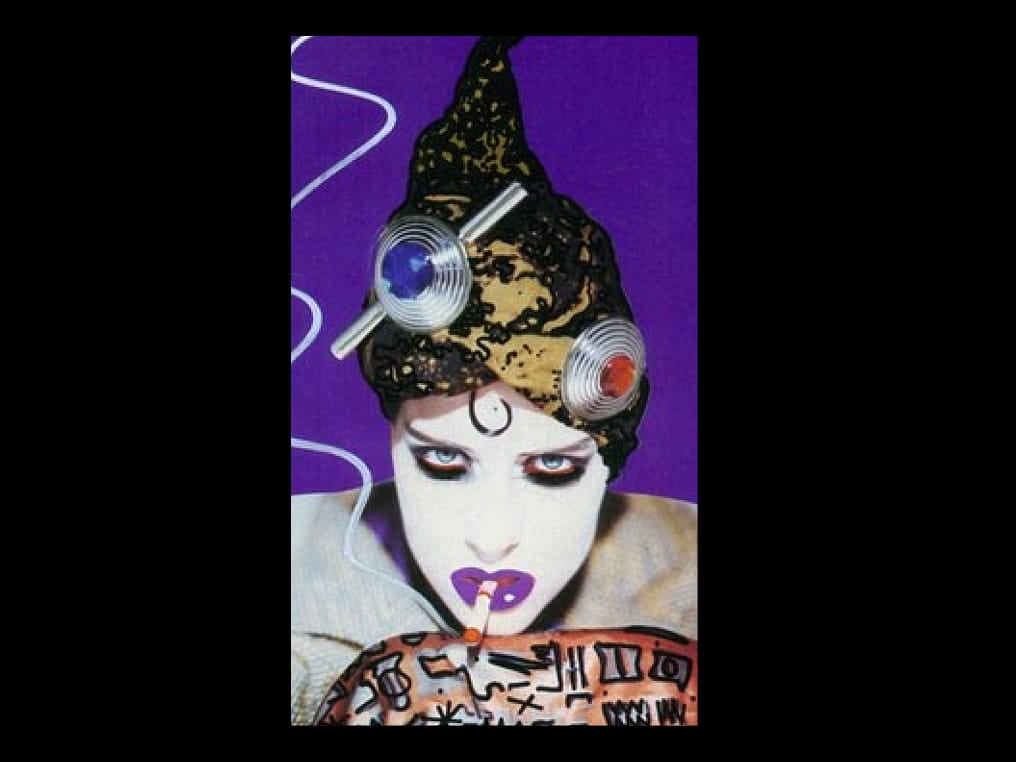 ALBUM COVER  JANET JACKSON – CONTROL BY TONY VIRAMONTES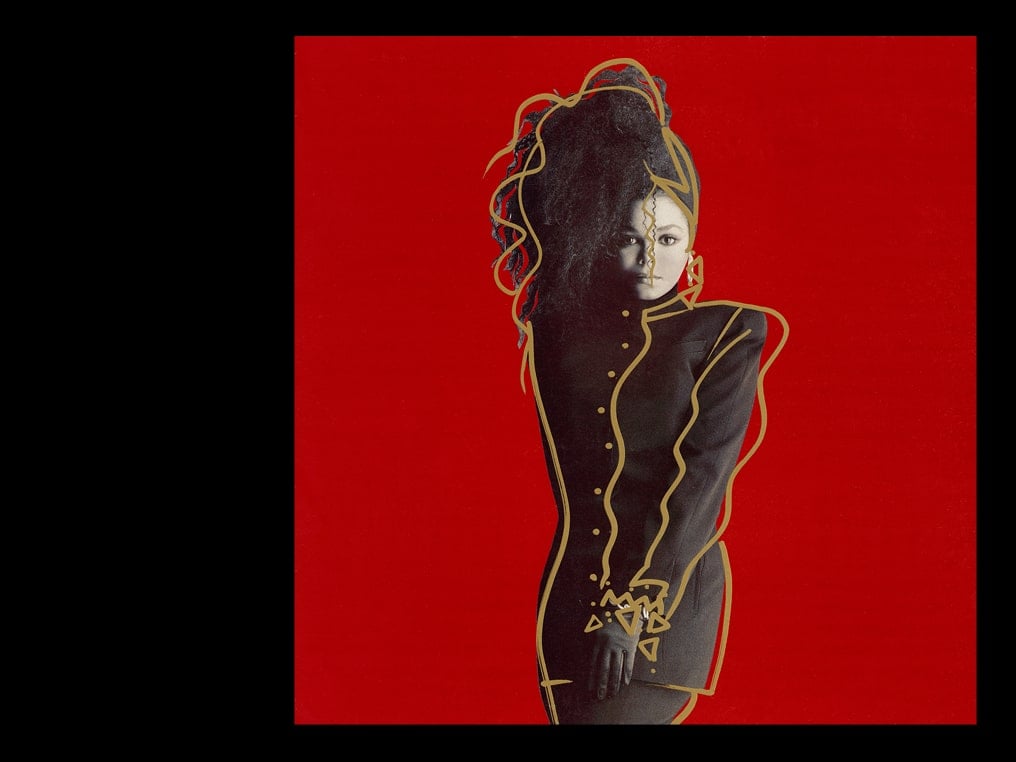 EARLY VIRAMONTES, A TWIN PORTRAIT OF RENE RUSS HIS FIRST MUSE.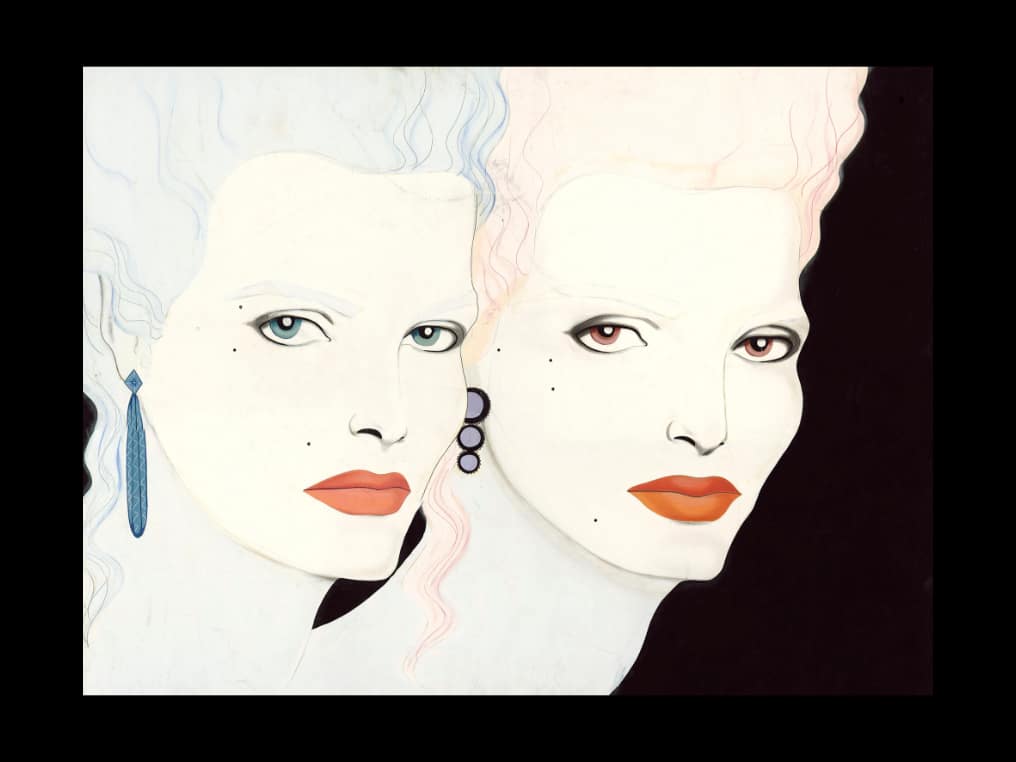 'Bold, Beautiful and Damned: The World of 1980s Fashion Illustrator Tony Viramontes' by Dean Rhys Morgan and published by Laurence King Publishing, celebrates the artist's work and life. — words by Ashlee Girdner
More New York Artists
A Quiet Confidence – New York Master photographer: John Dugdale
BAST-ARDIZED – An interview with Brooklyn street artist Bäst