Mauricio and Roger Padilha of MAO PR are the co-authors of the best-selling "The Stephen Sprouse Book" by Rizzoli, 2009

. Their affair with Stephen Sprouse started as a teenage love and continued through the decades. The two brothers are the owners of the largest collection outside of Stephen Sprouse's personal archive.
Mauricio and Roger Padilha of MAO PR are the co-authors of the best-selling "The Stephen Sprouse Book" by Rizzoli, 2009. Their affair with Stephen Sprouse started as a teenage love and continued through the decades. The two brothers are the owners of the largest collection outside of Stephen Sprouse's personal archive. –Interview by Natalie Kates
Natalie Kates: How did you start collecting Stephen Sprouse?

Roger Padilha: We grew up on Long Island and didn't really have access to a lot of fashion. When I was 13 years old and Mauricio was 16, we were watching some TV News Channel and they showed a fashion show on Stephen Sprouse. We stole our parent's credit card and went to Bloomingdale's in Manhattan where we charged up a bunch of clothing. We got severely punished for it! That is really what started it. We saw the clothing and just needed to have it. It went beyond us wearing it; we bought women's clothing, we bought clothing that was too small for us or too big for us, clothing that we would not be able to wear anywhere. We just wanted to have it. His clothing was artwork to us from the very beginning.
Mauricio Padilha: For us Stephen Sprouse was a combination of everything that we liked. We loved Marilyn, Monroe, Andy Warhol and Debby Harry. Stephen put it all together and threw it back as fashion. He did day-glow clothing, things psychedelic, Warhol prints. We call Sprouse one of Warhol's children because he came from that generation that came to New York, met Andy, inspired and worked with him. He was the first designer that Andy personally allowed to have prints made of his paintings onto clothing. Only today, through the foundation, do others use his prints. He is part of the reason why we came to New York and got into fashion.

NK: What year was this?

RP: 1984. When you see the clothing in person, it's so vibrant, exciting and so well made. The clothing that you see here today in our collection is over 35 years old and still so luscious and wearable. You still look cooler than anyone in the room when you wear it. It's timeless but very of the moment.

NK: It is also very relevant. Like you just touched on, it was one of the first artist/designer collaborations. Stephen was one of the firsts to blur the lines between art, fashion and music. We all grew up in the NY club scene and I remember seeing him out quite a bit. Were either of you friend's with Stephen while he was alive?

RP: No and we actually stayed away from it. About 10 years ago, when Stephen was still alive, "The New York Times" wrote an article about our collection and Stephen saw it and decided he wanted to meet us. Shortly after, we were at a party and a mutual friend tried to introduce us. We actually bolted out of the party. We have met enough of our idols to know that if you meet someone and you don't like them, you suddenly don't like their artwork.
MP: Stephen's art was everything to us. The clothes were more important than meeting the actual person. The funny thing is, now that we have worked with everyone who has worked with him (Debby Harry, Marc Jacobs, his family) and they've all said that he would have loved us and that he was such a nice guy. I now kind of regret not getting to meet him in person, but we are honored that we were the ones given his legacy to promote.

NK: How did the Rizzoli book deal come about?
RP: We had a small magazine called MAO Mag. in which we did an article on Stephen when he passed away. When he died we were actually very upset about the coverage of his death. All the obituaries mentioned the Louis Vuitton collaborations, the Bryant Park tents that he customized, his Diesel collaboration but they really didn't talk about this amazing 25-year career. That was so much cooler than any of the commercial work he did the last year of his life. We wrote an article and basically showcased our collection, spoke to Kate Moss and Debby Harry who were some of his muses. The article focused on his impact. We received a call from his mother, Joanne Sprouse, who said of all the magazine articles that were written, that Stephen would have loved ours the best. She sent us a big box of cookies with this great note and a check for a $100.
MP: She asked for us to send her how ever many magazines $100 can buy because she wanted to save them for his nieces and nephews when they grew up. We of course sent her back the check and included a box of magazines. She called us and told us that there were two things that Stephen always wanted: one, he always wanted an exhibit of his work and two, he always wanted to have a book of his work. She said that if you ever feel like doing a book, I'll let you do it and would give us an exclusive to the archives. We thought about it and decided a book is just like a magazine, which is what we were already doing. After five years passed, she called us again and we said we would definitely do it. We spoke to Jeffrey Deitch's people and he decided to do an exhibit. Roger spoke to Marc Jacobs who agreed to re-release the collection he had done with Stephen so long as our book came out in 6 months. So, we rushed the book and completed it in half the time we had originally planned.
NK: How many pieces would you say that you have, including his accessories and shoes?
MP: At least 1,000 pieces. I have boxes and boxes in warehouses. We have 2 closets here in the showroom. We have bracelets, shoes, pieces made just for runway. Some are just art pieces while others are t-shirts and jeans. At one point we got crazy and would take anything that said Stephen Sprouse on it.
RP: What's funny is after we did the book, Stephen's mother said, "If there's anything you want from the archives…" and we said, "We have enough." [laughs].

NK: Stephen passed away in 2004 at 52 years old. It's both poetic and sad that he found great success later on in his life. He collaborated twice with Marc Jacobs on Louis Vuitton's Speedy bag that he defaced and instantly became an iconic collector's piece.
MP: He was the first young designer that Target did a collection with. Before Stephen Sprouse there were no designers working for Target. He opened the doors up to everyone, like Peter Som and Jason Wu who are doing it today.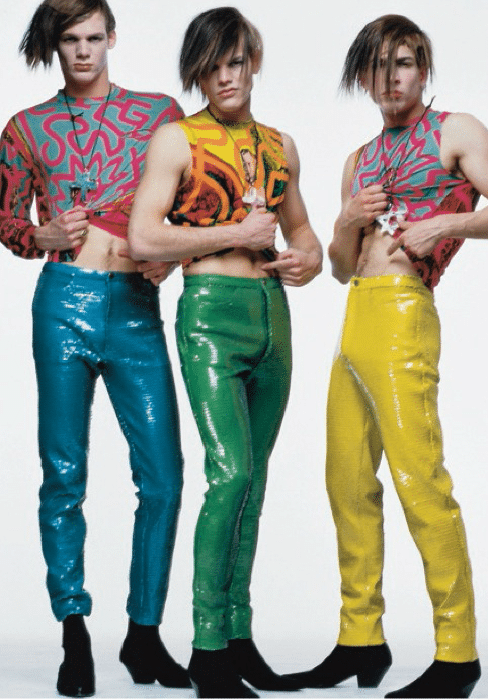 RP: The great thing about Stephen was that he was a visionary. He was making clothing that was advanced by 25 years. The bad thing about Stephen is that he was making clothing that was 25 years too advanced. He was never really appreciated in his own time. There were certainly people in the club scene who were wearing his clothing. I wish he were alive today to look at Bloomingdale's or Macy's because all that stuff looks like Stephen Sprouse. Topshop looks like Stephen Sprouse from 1982. The genius of Stephen was that he was an artist and he was making things that we wanted 25 years before we realized we wanted it.
MP: He would never compromise. That's one of the things that's an essence of a true artist, which is what Stephen was.

NK: Roger, what is your favorite Stephen Sprouse collection?
RP: Spring 1988. It was a camouflage collection loosely based on the Black Friday that had happened in 1988. It was very dark, skateboard punk. It was really longhaired, skinny models wearing day glow camouflage. They were real skater clothing: board shorts, blazers and tattoos but done up in silk and cashmere.
NK: Mauricio, what would your favorite collection be?

MP: Fall 1984. Basically that show was a rock concert. There were over 3000 people in attendance. It was held at the Ritz nightclub. There were huge speakers that the models were walking on while they were blasting. He had everyone from Terry Toy to the top models of the time. It was space age inspired. That show really solidified what his aesthetic was: rock n' roll, outer space, and the 60's. He put it all together and it came out perfect.

NK: Joanne Sprouse (Stephen's mom) is overseeing the archive now and you guys most definitely have one of the largest collections aside from her. What do you hope will happen to your collection when you are gone so others can enjoy it and have his legacy live on?

RP: If anyone would like to purchase anything…. [Laughs].
MP: Ideally I'd love to sell it so it can be kept together and housed where it will be safe and where young people can come view it year after year. Unfortunately, a lot of museums (even with the book and the press) don't see it as couture or as a very important time period for 80s fashion in New York. We always have stylists calling us for it. If it's someone I know understands Sprouse's aesthetic then I will let him or her have the collection. His clothes have attitude and museums don't.
RP: I'm on the fence with it. Many of these notable museums and university archives have all this incredible clothing but no one has access to it. Basically the clothing gets stuck in a back room and no one gets to see them. Every now and then they pull out one or two pieces for an exhibition. I love to wear my Sprouse and I'd love to see people wearing it out. Clothing only has life with a human body in it. I think Stephen would love for people to wear it. It was meant for beautiful people to wear out to clubs, get drunk, smoke cigarettes and have sex with a stranger… and looking great and feeling fabulous doing it.