An interview with Taylor Mead—last Andy Warhol's superstar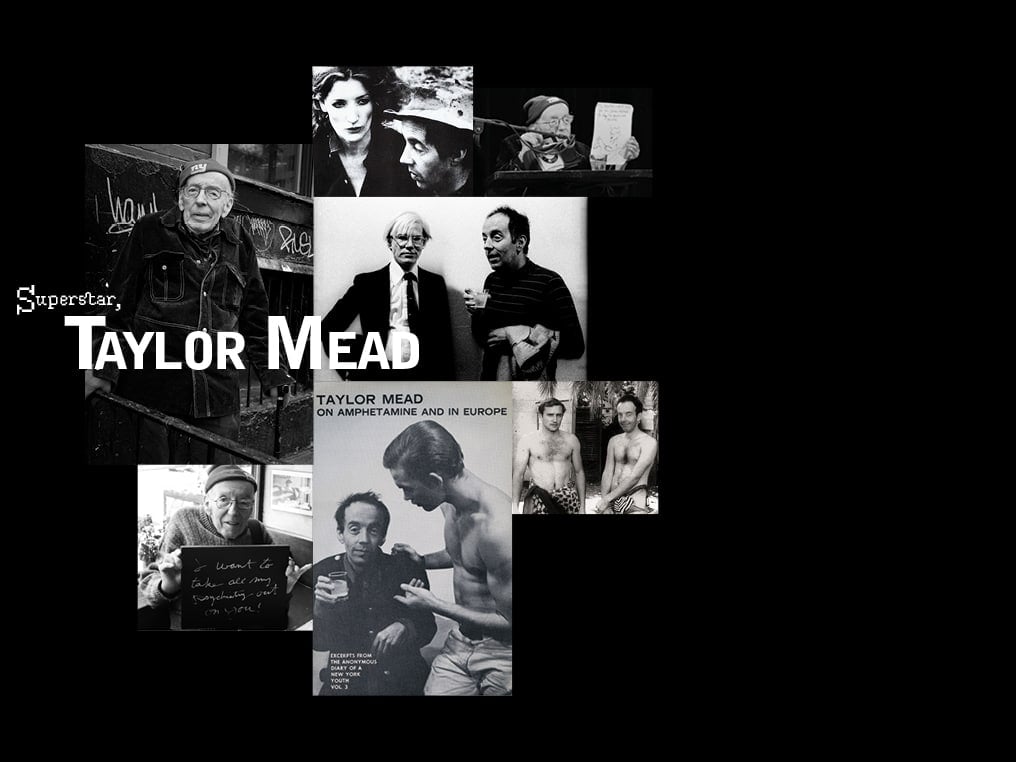 The artist died at the age of 88 on May 8, 2013, after being on the stage for over 70 years. The spunky, wry and sometimes irreverent actor, performer, playwright, poet, and painter was still performing every week.  Only disrupted last April when, after a long battle with the landlords, he agreed to leave his tenement apartment in LES. The following interview was originally published in our 3rd issue in March 2012.
New York, December 2011 –Born into and hated by a stuffy, affluent family, Taylor Mead, whose self- described dramatic debut went down at Grosse Point High School in 1930s Michigan, went on to work and party with such greats as Andy Warhol, Frank O'Hara, Dennis Hopper, and Jim Jarmusch. His roles in such films as Lonesome Cowboys (1968), The Queen of Sheba meets the Atom Man (1968), and Tarzan and Jane Regained…Sort Of (1964) were key contributions to a dynamic era of film in the '60s led by Andy Warhol, his collaborators, and his contemporaries.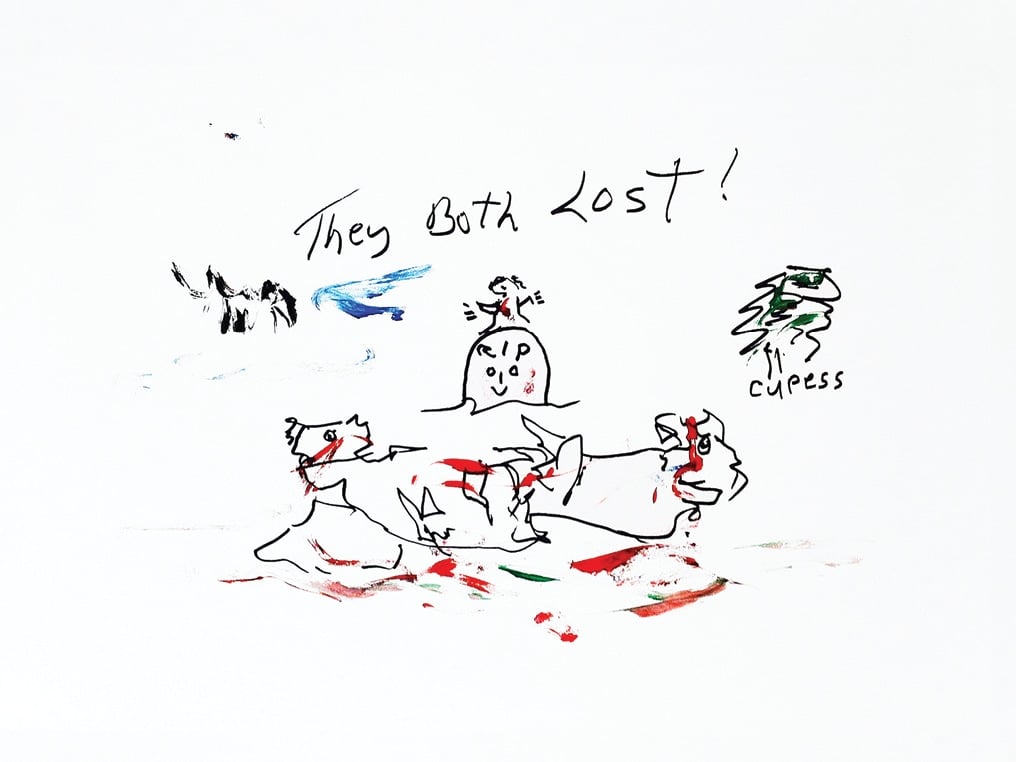 Sheet 8 from "Fairy Tale Poem," Taylor Mead, 2012
Sheet 6 from "Fairy Tale Poem," Taylor Mead, 2012
(Continued from above) Mead broke out on the Beat circuit in San Francisco doing funny and crass poetry readings and concerts, ending up in New York City shortly thereafter. Today, he continues to be a fixture on the Lower East Side. He's lived in a 4th floor walk-up tenement on Ludlow Street for over 30 years, shows paintings in galleries (most recently at Churner & Churner in Chelsea and at Half Gallery on Forsythe Street), and performs weekly in The Taylor Mead Show at the Bowery Poetry Club.
I met Taylor Mead a week before his birthday in December, as Christmas and winter were both tightening their grips on the city. Over grilled cheese and Dewar's at Lucien Restaurant, one of those typical New York French bistros at 1st and 1st, we chatted about poetry, painting, the Lower East Side, Andy Warhol, and the performer's life. As an old man, Mead fully recognizes his past. In boasting his successes and failures at becoming one of the rich and famous over his long career, he is a great storyteller.
Oh, and we also talked about Taylor Mead's Ass…
Sean Carroll: What is your earliest memory of acting?
Taylor Mead: By high school, I was already a sensation on the stage. I went to Grosse Point High School, and I did a play that the teacher wrote. I was an African king, and a thousand people came. I brought the house down. My nickname in high school was "Star."
You went on to spend some time at the venerable Pasadena Playhouse, right?
Yes, I ended up going to boarding school at Loomis in Connecticut after Grosse Point High School. After, I was accepted by Cornell and was going to study agriculture. My father said, "Great. When I retire, I'll buy a farm in upstate Michigan, and you can run the farm." Well, that killed agriculture for me. He saw that I had torn something out of Look Magazine about the Pasadena Playhouse. So he said, "Maybe you'd rather go here," and I said, "Yes."
I was the brightest new kid. I did an audition, and they thought they had the hottest new thing they had ever seen. But the whole first year it wasn't acting; it was learning the history of the theater, costuming, and verbal training. They wouldn't let me act until the second year. By that time, I was drafted, and I went back to Detroit where I was eventually thrown out of the Army.
What eventually took you out of Michigan?
I worked at a brokerage office, Merrill Lynch, in Detroit. My father had made the resident partner or his brother or someone the Treasurer of Michigan.
So they owed me a brokerage job, and I became a broker. I liked it. And I knew how to get at least 20% out of the blue chips.
I would have done the brokerage thing; I was fascinated by it. But after 9 months, I grew tired of Michigan, and I took off and hitchhiked America for the next 20 years. That's when I left.
When did you end up in New York City and the Lower East Side?
I used to come down to New York in the '40s from boarding school in Connecticut and go to Broadway shows, then later in the early '60s, when I was hitchhiking the country. I was so overawed by New York. I saw all these people sitting on their stoops on the Upper West Side minding their own business, as New York once was. I thought this is where I want to be; this is where I belong. New York.
I slept in Central Park, starving and begging. I guess my father sent me a couple hundred bucks a month or something. Rich fucking bastard.
So, I've pretty much been here since then.
This neighborhood, the Lower East Side, has probably changed so much.
It's scary. The changes are the wind. It's like that big black guy said, "The rents are too damn high."
When I first moved here, I was on the streets and sleeping in friends' lofts. I began reading poetry in the cafés with Bob Dylan, Bill Cosby, and Woody Allen. They went on to make millions, I guess.
For centuries, great famous people have grown careers here. There used to be major theaters down here on Second Avenue, Jewish places.
Here on the Lower East Side now, it's the rent, rent, rent.
How did you start working with Andy Warhol?
Andy knew who I was. I had become a fixture on the café scene, reading poetry and performing. Henry Geldzahler, who was a curator at the Metropolitan Museum and a good friend and supporter of Andy's, had seen me read.
He took me over to the Lexington Avenue mini-mansion one day. Andy gave me the royal treatment. It was fabulous. A few weeks later, Andy wanted me to go with him to California with Wynn Chamberlain and Gerard Malanga. Andy had never been to LA, and he wanted me and Wynn to drive. He wanted to see the country.
It was a great trip. I remember as we approached LA, the signs were like Pop Art, the motel signs. It was like California was greeting Andy. We went under a great sign that said Tarzana, and I said, "I want to play Tarzan." Andy was always open to suggestions. And so we made the movie Tarzan and Jane Regained… Sort Of when we got there. It had Dennis Hopper and Claes Oldenburg in it. That's how the Tarzan movie got made. We had a great week.
The Tarzan movie was the impetus for Taylor Mead's Ass, right? How did that movie come about?
Right. My ass was featured a lot in the Tarzan movie. I kept losing my loincloth, you see.
Someone wrote a letter to The Voice, "We don't want to see anymore 2-hour movies of Taylor Mead's ass."
I wrote back, "I've searched the vast archive of Warhol movies looking for a 2-hour film of Taylor Mead's ass. We are rectifying this oversight." So Andy was going to do a 2-hour film of my ass. I think it ended up a little over an hour. He wanted me to hold still for 2 hours. Impossible.
Overall, what's your feeling about the work you did with Andy Warhol?
He was total genius. His timing. There are so many imitators of Andy. I loved his Campbell's Soup can. I thought it was a Voltaren stroke of genius. Turn the searchlight on the big corporations, and this will cost you 25 cents. Brilliant.
He was great to be with, great to go out with. It was so easy to work with him. So I had a great experience, but he left me starving in Spain when he owed me just 50 bucks. It was Spain, 1970 or so; I could have lived for a month with tapas and a drink at a bar on 50 bucks. Andy had always said, "Oh, Taylor, if you're ever in trouble…" I sent him a couple of letters for the 50 bucks…nothing.
My father was a cheap son of a bitch, a liar, a crook. Andy Warhol – great filmmaker, lousy father.
I recently saw your painting show, Aphorisms from "On Amphetamine and In Europe", at Half Gallery over here on Forsythe Street. Tell me about that show.
I have thousands of pages of aphorisms. See, I used to write novels, but the fire department threw them out. I was in California at the time, and someone broke into my apartment. Apparently, the fire inspector saw all this trash in my place. I had 200 pages of 3 different novels – and it was all thrown out. I never sat down to write a novel ever again.
I just write whatever, and I never change a word; so it's mostly aphorisms.
The aphorisms in the show were from a book from 1968, "On Amphetamines and In Europe." Tell me about that book.
It's about 170 pages of aphorisms. I think there were about 30 pages where I was on psychedelics. So that's why I called it that. But I wasn't on amphetamines, and I wasn't in Europe either.
And how was your experience making the aphorisms into paintings?
Well, I'm a painter so it made sense. The gallery really liked the aphorisms. It was a great idea, but in the end, I think it's too minimal.
You're also working on painting some fairy tales?
Yes, I'm reworking a project from 10 or 20 years ago. They showed it at the Whitney Biennial in 2006.
They are going to be in a show at Churner & Churner in Chelsea next month. I like to paint in all kinds of media, but oil is my specialty, or whatever I can find in the apartment. I think these fairy tales are going to be in watercolor or gouache or something.
What's the tale?
Taylor Mead Fairy Tale
[First Panel]
Once upon a time, in a large castle, a monster dwelt.
In the forest nearby, a handsome prince [sometimes I make Andy Warhol the prince] is torturing the local inhabitants.
[Next Panel]
The monster rode out on his camel/horse [I tried to draw a horse but it came out a camel] to slay the handsome prince.
[Next Panel]
They fought like hell. They both lost. They're both dead.
[Last Panel]
Then it says "Castles for rent. Princes for rent." The End.
Simple fairy tale. Four panels. I write the story right on the painting.

You're also still performing and reading your poetry in The Taylor Mead Show at the Bowery Poetry Club?
Yes, for many years. I think about six years, but the owner, Bob Hollman, says I've been there for ten. I perform every Monday at 6:30 pm. It's my anchor.

What are your performances like? Are they different every week?
My motto is like the Boy Scouts, but mine is "Be un- prepared." I have thousands of pages of stuff, and I just pick whatever. I might read someone else's poetry. Sometimes I get organized. Two weeks ago I was organized, and it didn't work. And last week I did nothing, and it was grand. You know, nothing works unless it works.
Oh, I gotta write that one down: "Nothing works unless it works." That's one of my aphorisms.

Do you have any advice for someone who wants to live the life of a performer? You're going on 87. How do you sustain yourself as an artist?
You have to inherit money to begin with, even if it's a hundred bucks a month.

But, do you feel like you have to do it? Is it part of you?
Oh, the stage is everything. That little half hour show every week at the Bowery Poetry Club, that little thing keeps me on earth, and it's wonderful.
My philosophy is Nietzsche. A minimum of effort, a maximum of error, and only work with sympathetic people. Be un-prepared.