Artist Emilio Pérez Takes Times Square on a Visual Trip
NY based artist Emilio Pérez creates is taking over Times Square with a unique visual vocabulary of sinuous and spontaneous shapes in his precise drawings. They are infused with his fascination for classical paintings, music and nature. Style Curator, Natalie Kates sits with the artist to learn about his latest project "Dream Season" part of Midnight Moment, a Times Square Arts initiative in which the artist will take the public on an abstract, visual road trip from 11:57 p.m. to midnight every night in November.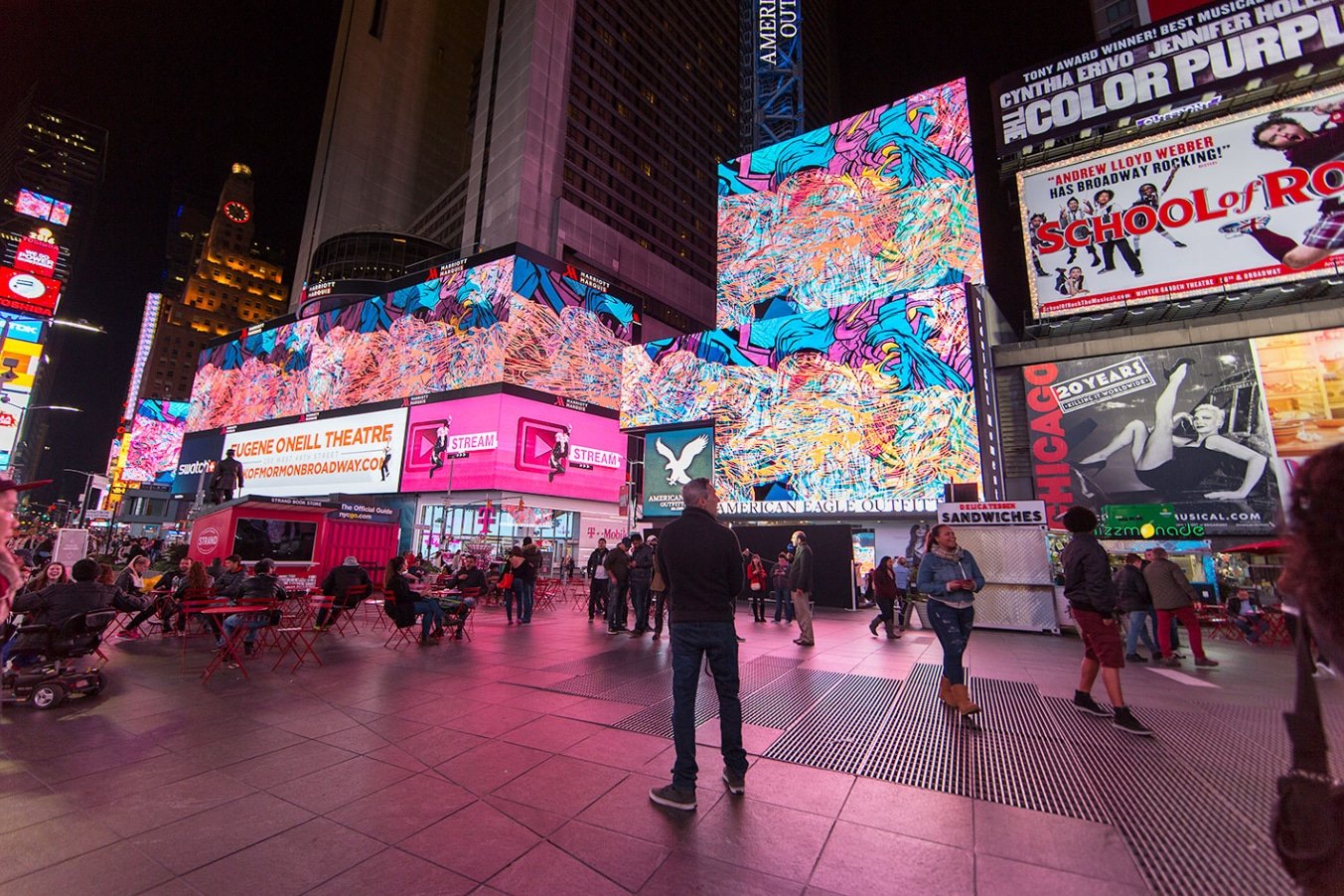 Natalie Kates: When did you realize you wanted to be an artist?
Emilio Pérez: I'm pretty sure that I was an artist all along. It just took time for me to understand what that meant and how I would apply it to my life and pursuits.
Your paintings have been described as abstract, organic, fluid forms and otherworldly. To achieve this you paint layers of pigment and carve out the layers with an X-Acto knife to create the artworks. How did you come to use the X-Acto knife in your paintings?
I have always been attracted to the immediacy of making marks. It feels like a very honest extension of yourself much like your signature or handwriting. For many years I have paired mark making with the expressiveness of the painted gesture, again for its honesty and physicality. For some reason it always felt more spontaneous and natural for the painting to inform the drawing because of the looseness and individuality of the brushstroke. I started doing this by working in a reductive technique where I use the X-Acto as my drawing tool to cut through the paint and reveal the backgrounds. By reacting to the brush strokes in an intuitive way without a set idea of what the painting is supposed to look like, it allows me to create in the moment. The X-Acto just happens to be the most efficient tool for doing this and has a line quality with a distinct graphic quality that I enjoy and with very little effort makes the process very intuitive and spontaneous much like a conversation
What artist living or dead would you like to collaborate with and why?
I'm not sure about a collaboration but I would love to be able to go back in time and work along side the great American abstract expressionists of the 40's and 50's. It must have been amazing to be in New York at that time as all of these artists were departing from European painting traditions to chart new territories and create their own movement. I don't know if an environment like that could ever exist again.
What is your favorite museum?
Although people would not think this initially, but most of my inspiration and influence comes from classical painting for their color, use of paint and compositions. I have always enjoyed visiting the Museo del Prado in Madrid. I never get tired of seeing the works of Velázquez, Goya, El Greco, Hieronymus Bosch and many more.
Do you listen to music when you are in the studio creating? What's on your playlist?
Music and rhythm is inherent in my work. Even some painting titles are derived from song lyrics or things that pop into my head while I am listening to something. I have a pretty eclectic taste when it comes to music so my playlist is constantly changing. I have an extensive vinyl collection of funk, soul and Latin stuff but when I get lazy I let Spotify be the DJ.


Does being a Cuban-American influence your art?
I don't think being Cuban-American specifically influences my art. It is more a part of my identity that allows me another perspective on things. More than anything being bi-lingual has opened many doors both artistically and personally, giving me an added perspective on people and things.
In 2015 for the Havana Biennial you created a 65-ft outdoor painting installation who's title "Un Verso Sencillo" was inspired by the writings of Jose Marti. This was the first time you had been back to Cuba since 2001. What was this experience like?
This was an important project for me on so many levels. Since 2001 I had been wanting to go back to Cuba but was looking for the right reason to return. That moment came when I was invited to participate in the Havana Biennial in 2015. I was given the opportunity to not only create my largest painting which would be exhibited publicly outdoors on Havana's malecon, but also share it with my family who still lives there. I have been fortunate enough to have done so many things in my career but never thought I would have a giant painting in Cuba looking out over the ocean towards Florida where I grew up always imagining what it would be like to visit Cuba.
Can you tell me what you are currently working on?
My latest project is called "Dream Season" and is part of Times Square Arts Midnight Moment program. I created a site specific video animation based on the idea of a visual road trip of the imagination. It will be shown on over 20 giant digital billboards through Times Square every night at 11:57 during the month of November. Midnight Moment is the largest coordinated effort in history by the sign operators in Times Square to display synchronized, cutting-edge creative content on electronic billboards and newspaper kiosks throughout Times Square.
Congratulations on your Times Square Arts Midnight Moment. How challenging was it to create a digital work of art while still being true to your iconography?
The biggest challenge was learning a new medium. I have always been a very hands on person so with the help of a friend I was able to learn some basics in After Effects and go from there. This approach actually helped me do things in an intuitive manner much like my typical practice in the studio. Being my first animation I also knew that my starting point needed to be something that I was familiar with. I took an existing painting and deconstructed it by isolating backgrounds, lines and brushstrokes and began making digital collages with the components that I then animated. My goal is to capture the imagination of Times Square visitors and keep them engaged throughout duration of the video with a slow motion ride through my language of painting.
For an emerging collector what's the best way to collect your work?
I think prints and works on paper are always a good start because they are more affordable than the paintings. For the emerging collector it shouldn't be just about buying what they like but also learning about the work and understanding what it is about the work that personally attracts and connects them in the first place. For example, I am releasing a special edition screen print with Pace Prints inspired by my installation in Times Square. Anyone who sees the installation will have their own personal experience that they can reflect on when looking at the print to give
them more context and a deeper understanding of what they are looking at.
Perez attended Pratt Institute and University of Florida's New World School of the Arts. Perez's works can be found in the permanent collections of the PAMM, Miami; Albright-Knox Art Gallery, Buffalo; Fundación ARCO, Madrid and Arkansas Art Center, Little Rock; and in corporate collections, internationally. The artist's paintings were featured in the Critical Gestures, PAMM, Miami; 12th Havana Biennial; Topographies at the Albright-Knox Art Gallery, Buffalo; and Signs of the Apocalypse/Rapture at the Hyde Park Art Center, Chicago. Perez had solo exhibitions with Galerie Lelong in New York and Paris and has been featured in exhibitions internationally.  More info at Time Square Arts: Dream Season
More New York Art Shows and Sales
—You can find Emilio Pérez on Instagram @emilioperezart and at www.emilioperezart.com Interview by Natalie Kates