Tunisian Model Kenza Fourati: Art, Fashion and Revolt
As the Tunisian revolution began and youth rebelled against the system to fight for their rights and reclaim their country, one of their most beautiful and recognizable models was about to step into a public whirlwind of her own.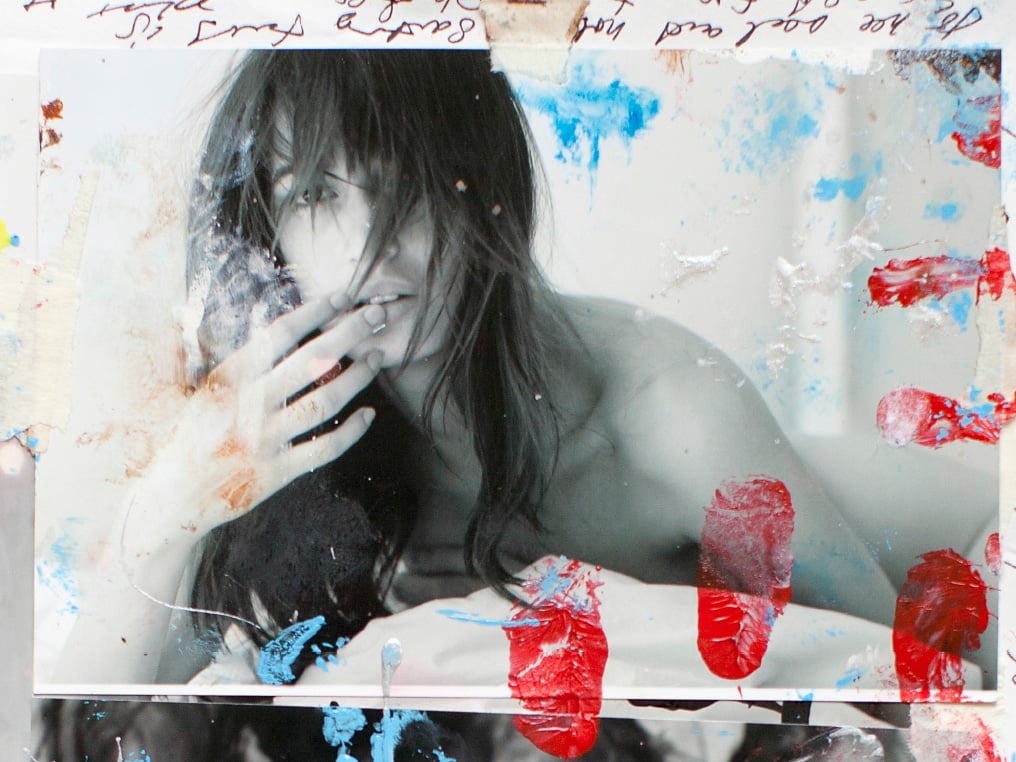 Tunisian model, Kenza Fourati would become the first Arab model to ever be featured in the best selling Sport's Illustrated Swimsuit Issue. The significance was immediately established by the magazine, which added a political quote to Kenza's introductory page. The response from the media around the world, and especially from her own country, was immediate. In the process, Fourati was to become one of the faces of that young revolution.
Already an active participant in her country's political struggles, Kenza now had enough influence with the media to spread the word and make more room for Tunisian issues across the planet. Very bold and outspoken, the model was never discouraged by her critics, who often created negative facebook groups or used Internet forums that spoke out against her and her message. Kenza's goal was clear – the model was going to use her success and public persona to benefit her country and raise awareness to what it has to offer the world, and to bring attention to the arts and fashion in Tunisia.
While working relentlessly on putting together her fashion line called By Kenz, (which will be launched in Tunisia during Tunis Fashion Week in 2013) the model discovered other ways to connect the dots and kill two birds with one stone. With a degree in French literature from Sorbonne as well as lengthy studies in filmmaking, Kenza has a lot more to share with the world than just her looks.
Gabriel Ruas Santos-Rocha: What lead you to the idea of bringing Tunisian artists to America?
Kenza Fourati: Pride probably. No one ever talks about my tiny country. Yet it is shaking the face of the world. And I'm not talking only about the Arab spring. When I walked around the Occupy Wall Street movements I noticed several slogans inspired by the Tunisian uprising. After revoking censorship, when the word became suddenly free, creativity erupted. New York is the conjuncture for artists. I have the duty to help building the bridge and exposing both of my worlds.
How do you expect to start bridging the gap between the East and the West?
The strongest weapon ever created is the Internet. There is no real geography anymore, just cultures to share. So I decided to launch a fashion blog this month that will also promote art and culture here and there.
How do you think Tunisia can benefit from the work you're doing?
Tunisia is at an edge, it's sculpting its destiny, its history; with the fundamentalists trying to establish dogmas everywhere. I want to expose people to new cultures, photography, etc.
"For me, freedom is sacred above everything, and so is art."
Who are some of the artists who inspired you to start this work?
There are so many, but recently I met this young Graffiti artist called MeenOne, who is truly fascinating. First by the way he looks; he has dreadlocks. In Tunisia it is really rare to allow yourself to look "marginal". People aren't used to it and you are confronted constantly with harsh comments. Authorities will arrest you for questioning and so on. The irony is that it used to be people with long beards who looked suspicious.
Then there is also the fact that he (MeenOne) grew up in a poor region of the country ruled by the extremists. Actually, his brother is a Salafist (Jihadist movement). MeenOne used to tag all over the country wearing a mask and after the revolution he showed his face, then he showed his work in an exhibit last June. The exhibit was considered an insult to the sacred. Some fundamentalists called for his death and it was his Salafist brother and the neighborhood he grew up in that ended up protecting him. I didn't know him personally at that time, but I was stunned by what happened.
"For me, freedom is sacred above everything, and so is art."
I started looking for an artist to work on an "Art is Sacred" theme for my website and my clothing line and came across MeenOne, and I found him to be extremely talented. I had no idea he was involved in the exhibit scandal at the time. I had already become obsessed with Graffiti when I went to Rio de Janeiro in Brazil and discovered Panmela Castro's work.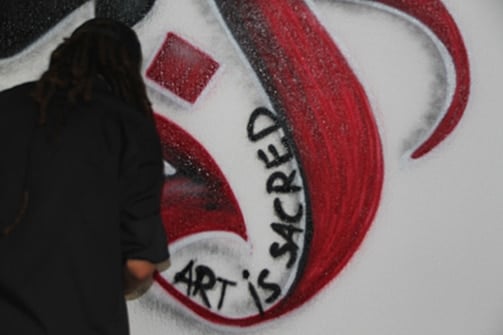 And how will you bring that work over to the west?
First through my online platform, and later on I hope to bring it to another level and allow some awesome art to be physically shown here.
How was it to step out into the social public eye as a model during the Tunisian revolution?
When the turmoil intensified I asked my family for their permission to start publishing articles and videos connected to the subject and they allowed me to do it. They really are the brave ones because the danger was really for them. I got even more involved when my friend, who is an activist, got arrested and disappeared. His wife reached out to me and it was right at the beginning, on January 6th, 2011. I decided to stop everything that I was doing and only focus on the history that was being made in my country.
"No one ever talks about my tiny country. Yet it is shaking the face of the world."
What about the revolution made you happy?
I felt infinitely proud. But I felt a kind of pride I had never felt before. Pride is a very individualist feeling, but back then it was a completely selfless collectively shared feeling of pride. I am quite moved and amazed by it. This revolution belongs to all of us. We are the revolution.
Were you ever afraid of any negative religious or political backlash due to your participation in these movements?
At the time, yes I was afraid of the political backlash my family could suffer. There was no question of religion at the time, but that problem came later and is actually very current today.
What do you still expect to see happening for your country?
Democracy is still unfolding. We are navigating through what is accepted and what is not, and having fundamentalists in power doesn't help.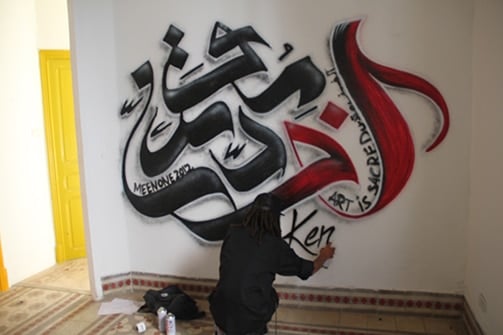 Do you feel that being a model was or still could be a problem for you in your country?
Yes, it sure is now, but it never used to be. I am extremely controversial in the country as its been getting more and more conservative.
Is there anything you think you would do differently in your career?
Last year I shot a cover for a magazine wearing a bikini and my body was covered by a Victor Hugo poem. I loved the idea and the poem preaching love and tolerance, but the magazine edited it in an aggressively provocative way and it delivered the wrong message. So yes, that would be the only thing I would do differently. I was too naive back then.
How about your clothing line? What are the links with Tunisia there?
First of all I am manufacturing my entire collection locally. People may not know that, but many of the great fashion houses like Giorgio Armani and Zadig & Voltaire make their products in Tunisia. So I will be using those same factories. The quality of my product is very important and my main concern.
Interview by: Gabriel Ruas Santos-Rocha. More Artists Interviews