An Interview with actor Zoë Kravitz
It's a February Friday afternoon in New York City, and the weather has gone from snow to hail to rain and back to wet, sloppy snow when I sit down to chat with Zoë Kravitz, the single heir to the funk fortune that Lenny Kravitz and Lisa Bonet's late-eighties and early-nineties romance endowed the world. At 24, Zoë is a near perfect match to a 1980s Bonet, and with the help of a Google Image search or a TV Land marathon, it's clear she's channeling a fair amount of Denise Huxtable as well. She is poised, beautiful, artistic and wise to the second-generation Hollywood privilege her looks and last name have afforded her. –Words and Interview by Kelly Sherman, Photography by Robert Nethery at Art List NY, Styling by Dianna Lunt at Art Department.  Hair by Nikki Nelms, Make-up by Rebecca Restrepo at The Wall Group, Photography Assistant Johnny Kapp, Assistants: Eliza Wexelman and Mey Díaz.
Interview by Kelly Sherman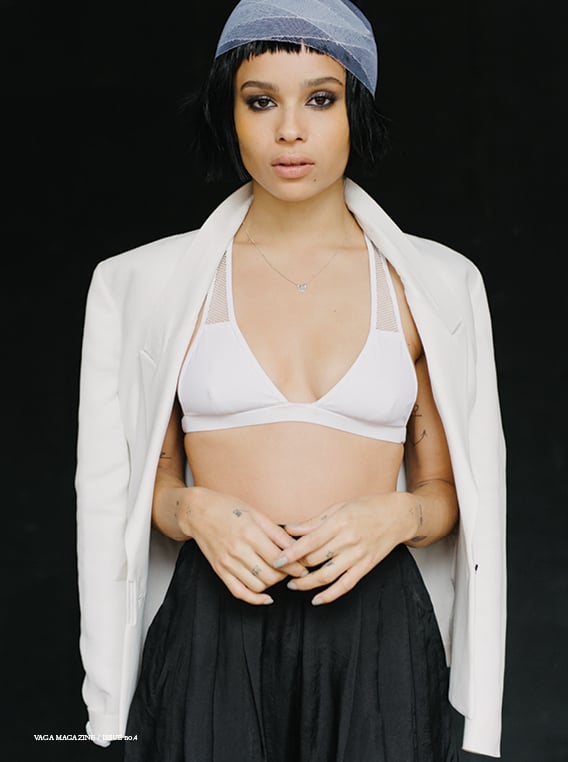 Blazer COSTUME NACIONAL, bra top T by ALEXANDER WANG, silk trousers CARIN WESTER, headband HEATHER HUEY, sterling silver necklace SCOSHA
"It's a hard thing to balance because I've gone through phases where I haven't been able to enjoy anything because I feel guilt, you know, and I've always wondered, 'Why does the world work this way?' Why have I been blessed, when some people haven't been blessed in the same way? I struggle sometimes with being able to accept the way that things are."
For Zoë, the "way things are" is the creatively inspired life she's built in New York City, and the aspirations in film, television, fashion, music, and writing that she has been able to pursue. "I've always been quite aware of the position I've been put in in my life and that I'm very blessed, and that this is not by any means the way the world works everywhere – I'm not living in a bubble, especially 'cause it's not like I come from a lineage of wealth. Both my parents kind of made it for themselves. My mom's mom was a schoolteacher, my dad's grandfather came straight from the Bahamas and he worked with his hands. Both my parents have always stressed the fact that I need to be able to appreciate everything that I have, and if it all went away tomorrow I'd still be able to be happy."
The "it," of course, that Zoë refers to is partly growing up in a world full of famous faces. "My jaw dropped when I saw David Bowie in person. He asked me how my dad was and I was like, 'Oh my god, I can't talk to you!'" But since moving to NYC eight years ago as a 16 year-old to start high school at Manhattan's Rudolf Steiner School, the "it" has become more directly about and related to Zoë herself. "New York is definitely my home base, it's where I feel the most at home and where I feel the most inspired… New York is definitely my heart." And now more than ever, as she builds her career, the "it" is in her control. "As a person, I like to call myself an artist because I like to express myself in all these different ways. As a career right now, I'm an actress."
Zoë's story, drive, and inspiration predate her move to NYC, of course. Her earliest and some of her most "magical" memories come from her childhood in Topanga Canyon, California, where she lived in her mother's house until she was 12. "Living [there] was amazing, in such nature. We didn't have a TV and I spent so much time outdoors and using my imagination and playing dress-up, and we had an orchard and I would pick fruit and dress up in weird medieval costumes." Zoë doesn't remember having a particular "ah-ha" moment where she decided she liked acting – rather, it was something she was always around and always enjoyed.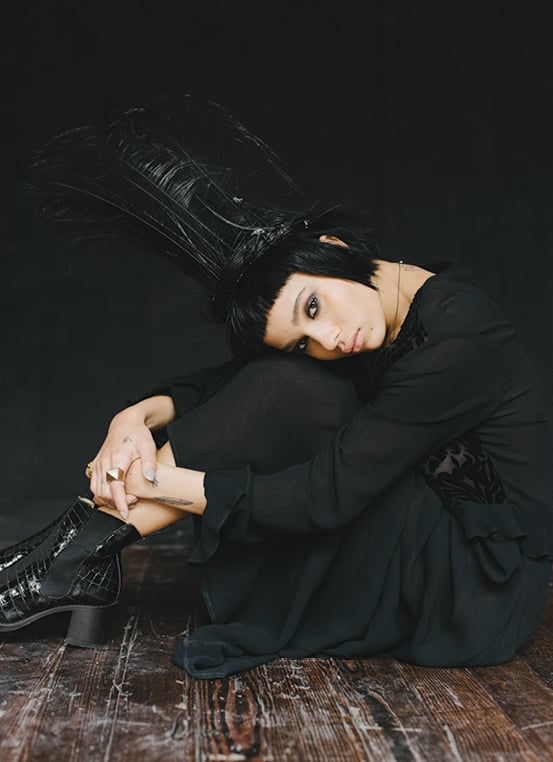 Dress vintage, patent leather ankle boots MALIN LANDAEUS, feather headdress HEATHER HUEY, sterling silver necklace SCOSHA, gold pyramid ring KENNETH JAY LANE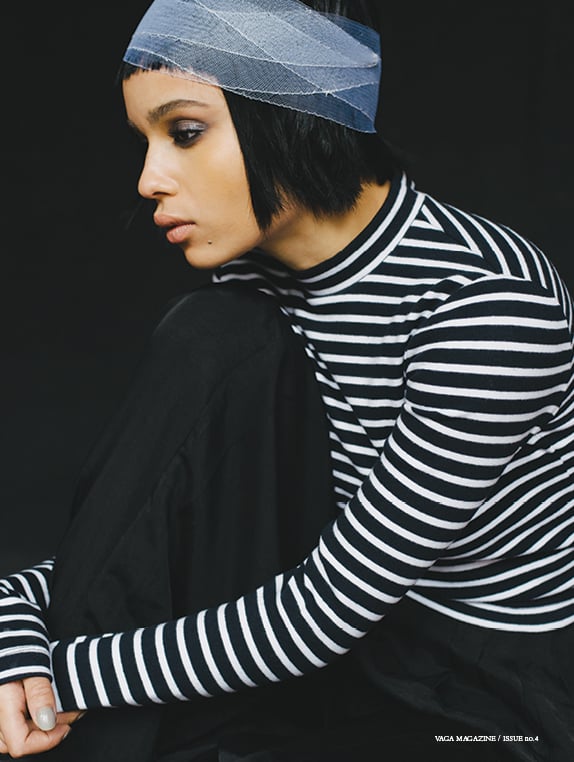 Striped knit top T by ALEXANDER WANG, silk trousers CARIN WESTER, headband HEATHER HUEY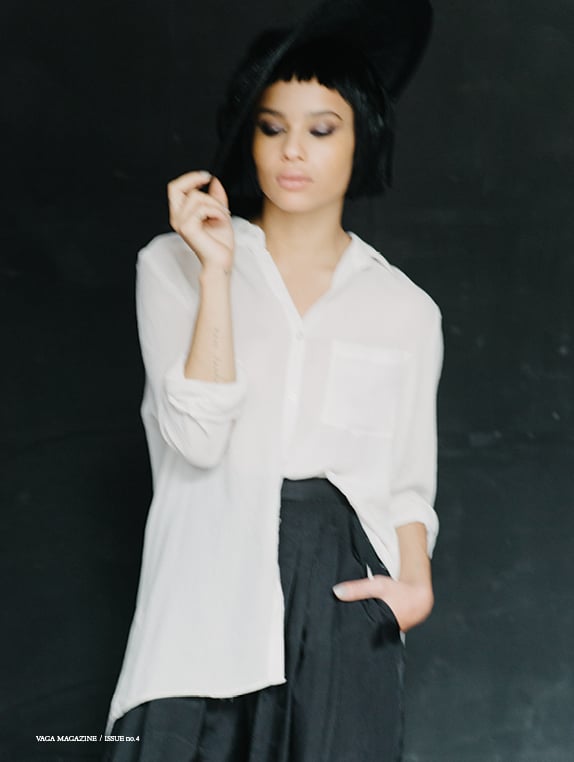 Silk blouse CHEAP MONDAY, hat HEATHER HUEY, silk trousers CARIN WESTER
Topanga Canyon, it should be noted, has been cultivating and maintaining a bohemian reputation as an artistic enclave since at least the 1950s, having laid claim to residents like Neil Young and Jim Morrison. And, well, in the spirit of '80s and '90s television pop culture, it's no coincidence that Cory Matthews' free-spirited female best friend and eventually-realized soulmate on Boy Meets World shares her first name with the Canyon.
It was in Topanga Canyon that Zoë joined local drama clubs and staged shows at her grandmother's house, usually reenacting "Somewhere Over the Rainbow." "It was the one thing that made me really happy." It was here, too, where she gained her education in film history, and where Bonet encouraged her to watch favorites from her own childhood, imprinting the qualities and skills of what makes a lasting performance and what drives an inspired character onto a new generation. "My mom would show me movies that she wanted me to see. I watched a lot of old Jodie Foster films like the original Freaky Friday and Foxes and Bugsy Malone – I was a big fan of hers, and I was [also] completely obsessed with the Little Rascals and that kind of like weird aesthetic that they had. I think it helped me develop a little bit of a timeless aesthetic when it comes to film."
While still in school at Rudolf Steiner, Zoë's professional career began to take hold, and in 2007 she found herself cast in her first two big-budget films, including The Brave One alongside childhood hero Foster, which "was amazing!" – obviously. Celebrity offspring or not, everyone loves the prospect of an encounter with their hero – it's just that most of us are too nervous to say anything when it actually happens. "It was definitely a big moment for me. I tried to kind of, like, keep it to myself. Doing that scene with her was pretty outstanding. Yea, it was crazy. She was really, really nice and she made it really relaxed and normal because she was so relaxed and kind and approachable."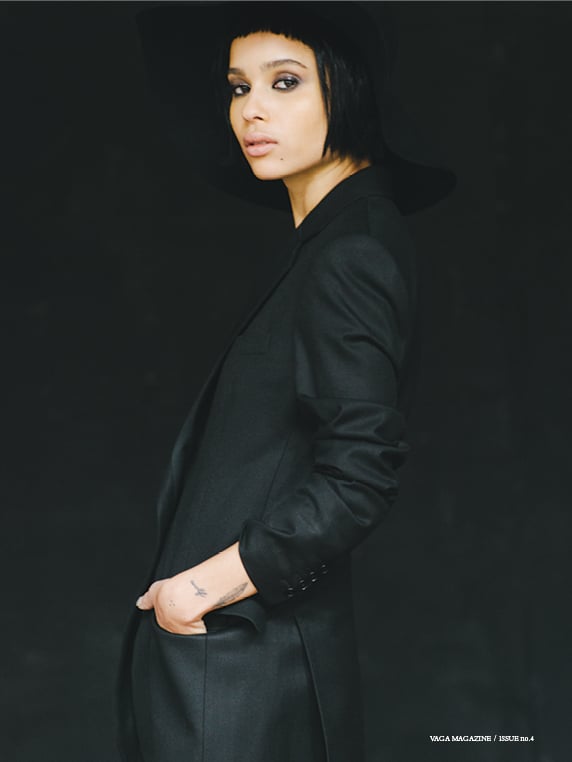 Double breasted jacket BLK DNM, floppy hat HEATHER HUEY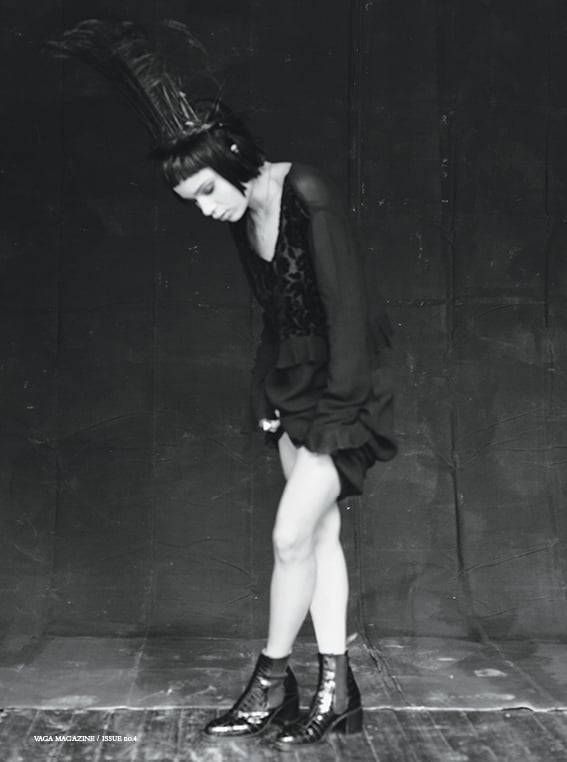 Zoë's professional growth and creative endeavors have been both steady and on the rise after graduating Steiner and throughout the year she spent at the SUNY Purchase Acting Conservatory. Much like the organic growth of her interest in becoming an actor, the roles she is taking seem to be intrinsically flowing, one to the next, with a recent slant toward the extreme end of the big budget blockbuster (2011's X-Men: First Class, 2013's After Earth, 2014's Mad Max: Fury Road) – but that's not the way she sees it. "When I was first auditioning for these kinds of films I would be like, why am I even going? They're not going to hire me, they want Megan Fox." For Mad Max: Fury Road, a film that's been in pre-production for over a quarter century, Zoë spent four months filming in Namibia and is relatively calm about ultimately being cast in a project that's been in production longer than she's been alive. "I did not see it coming at all, so I'm kind of riding the wave, you know? It's cool that I'm even able to fit into that kind of world. It's an honor and it's humbling." But like any good performer, and especially those of the New York persuasion, Zoë does not define success by her roles. They are, instead, a stone to pave the path of her career. "It's an interesting challenge as a person. We define ourselves so much based off of where we are and who we are and who we're friends with, and it's interesting to see the people that we become when we're taken out of our element."
As the progeny of the woman who played, arguably, the most fashionable character on TV in the last few decades (I'm not giving this one to Carrie Bradshaw), Zoë has been an Internet and magazine fashion dream since she first started foraging into the limelight. Her style is less about the trends and more about self-expression. "I like textures, I like color, I like new ideas, being brave. I'll watch Taxi Driver and I'll walk out the next day wearing, like, a Jodi Foster outfit." As a muse and model for Alexander Wang and the Face of the fall/winter 2012 Vera Wang Princess campaign, amongst other bookings, she is also on her way to building a solid foundation in the shaky world of fashion. Alex, for example, invited Zoë as his date to accept the CFDA/Vogue Fashion Fund Award in 2008 after using her as his muse that season, unbeknownst to her, and the two hit it off splendidly. "I'm a big supporter of him and proud of what he's been doing. I'll go anywhere for that guy, ends of the world and back." His show is tomorrow; mid-to-late predicted blizzard – so she just might get a chance to prove it.
The takeaway from Zoë is the ease with which she fits into a myriad of creative spaces. She can be an actor or a model, a writer or a musician; she currently dabbles in it all. She can be the muse, face, and date of a lauded fashion designer and his latest collection, the daughter of a rockstar, the girl who stays in instead of trekking through a blizzard in Valentino heels just because it's fashion week. She can be the little girl in a medieval costume picking fruit in a Topanga Canyon orchard and gleefully singing "Somewhere Over the Rainbow." She's comfortable in her skin and creatively confident – and at the end of the day, she pulls it off because what she's doing is what she loves. "As simple as it sounds," she says, "it all comes back to love."
But before I go, there's one last topic I need her insight on: "The Cosby Sweater," I say, "your thoughts. Go!" "Awful and yet beautiful," she laughs. "They're everything. It's like how the world started, the Big Bang. It's like beauty and ugliness all rolled into one big ball of yarn." Perfect.