The Natural – Joséphine de la Baume – interview and fashion editorial
Some people make things look so easy. Actor, model and XX half of brother-sister duo Singtank, Joséphine de la Baume exudes so much seemingly effortless creativity in her fingertips alone, it would be annoying if not for her secret weapon — intoxicating charm. The disarming wit takes a moment from her destined ascent to next level fame to discuss working with the best in the business, vampires and Michael Jackson…and invents a new word while she's at it. –Interview by Roberto Reyes, photography by Alex Brunet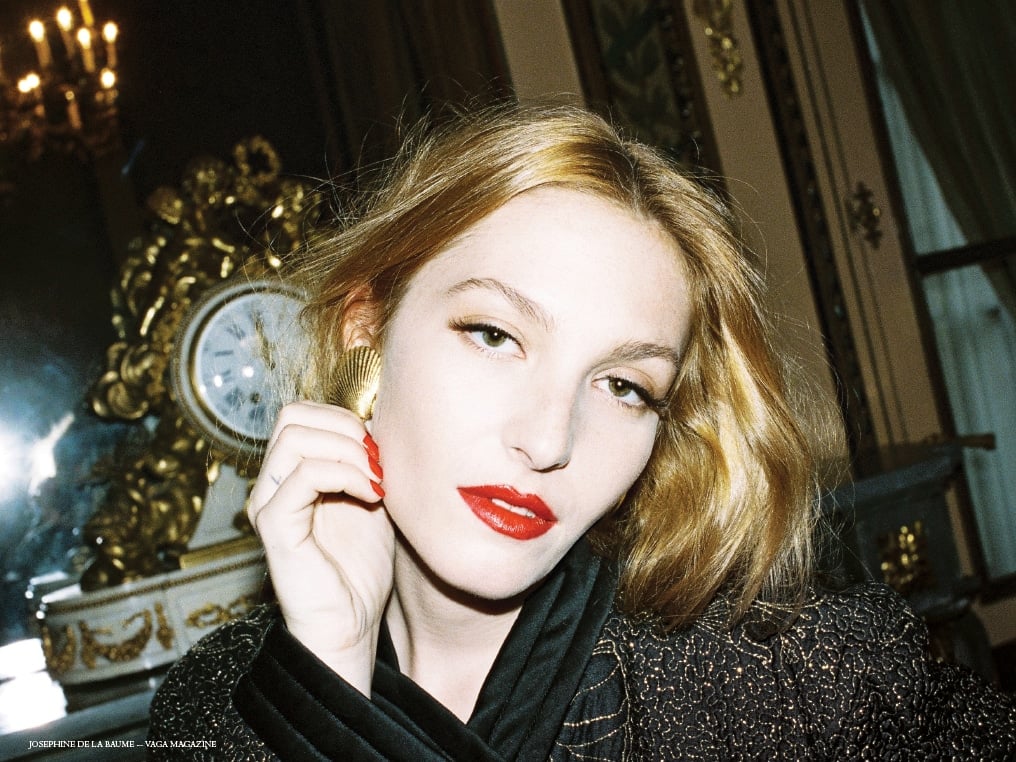 Read the full interview with Joséphine de la Baume from our 4th issue below. Use your keyboard arrows to navigate through the images. On the image: Josephine wears long gold embroidered dress vintage Oscar De La Renta from Pretty Box, Black suede purse vintage Yves Saint Laurent, Black polka dot tights The Sock Shop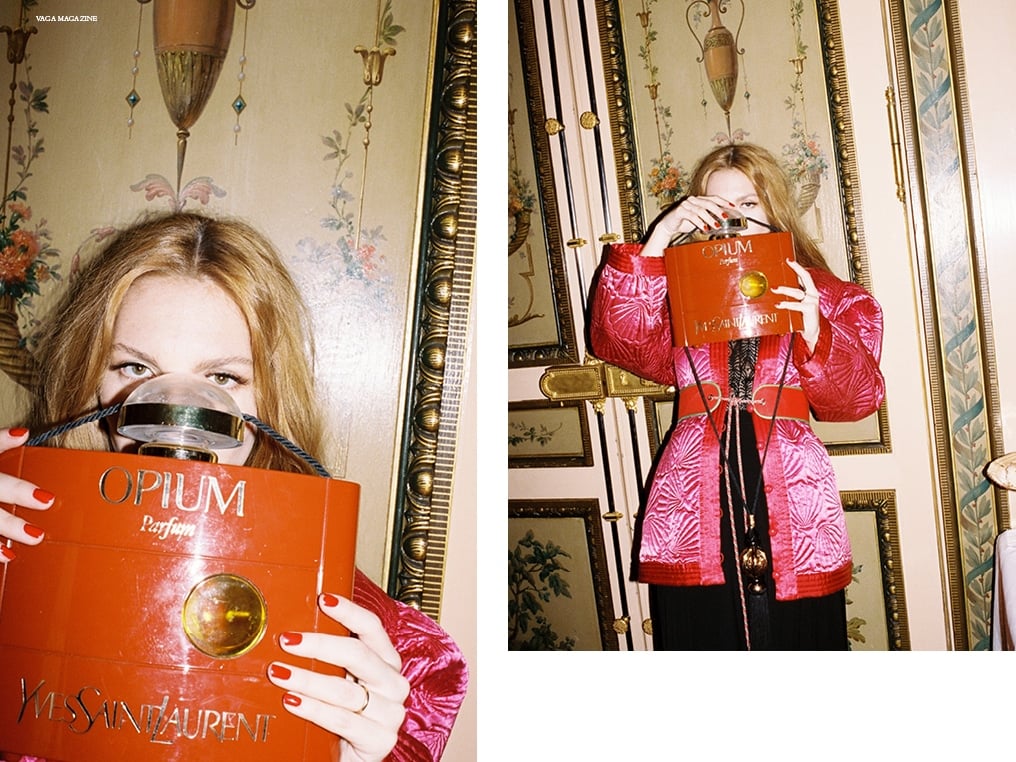 Pink Opium jacket and red belt vintage Yves Saint Laurent, Black lace bodysuit Roseanna, Large black pants vintage Mugler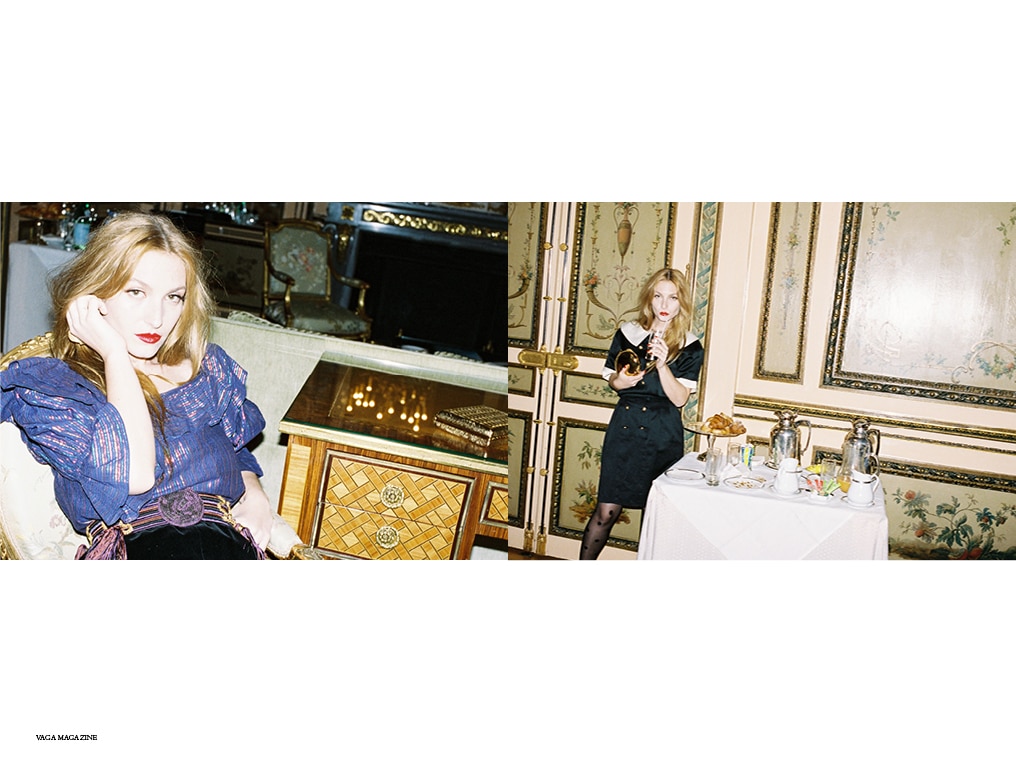 (left) Purple lurex blouse with black velvet skirt and purple belt vintage Yves Saint Laurent, (on the table) Golden metal clutch vintage Elie Saab. (right) Black and white collar dress vintage Chanel from Pretty Box, Golden metal clutch vintage Elie Saab, polka dot tights The Sock Shop
(left) Leopard satin dress vintage Yves Saint Laurent. (right) Black Opium jacket and black suede belt vintage Yves Saint Laurent, Long velvet skirt vintage Chloé from Pretty Box
(left) Silver lurex blouse vintage Jean Louis Scherre, Golden lurex skirt vintage Dior. (right) Embroidered jacket VINTAGE Valentino from Pretty Box, Long black pleated skirt Tara Jarmon, Black leather heels Christian Louboutin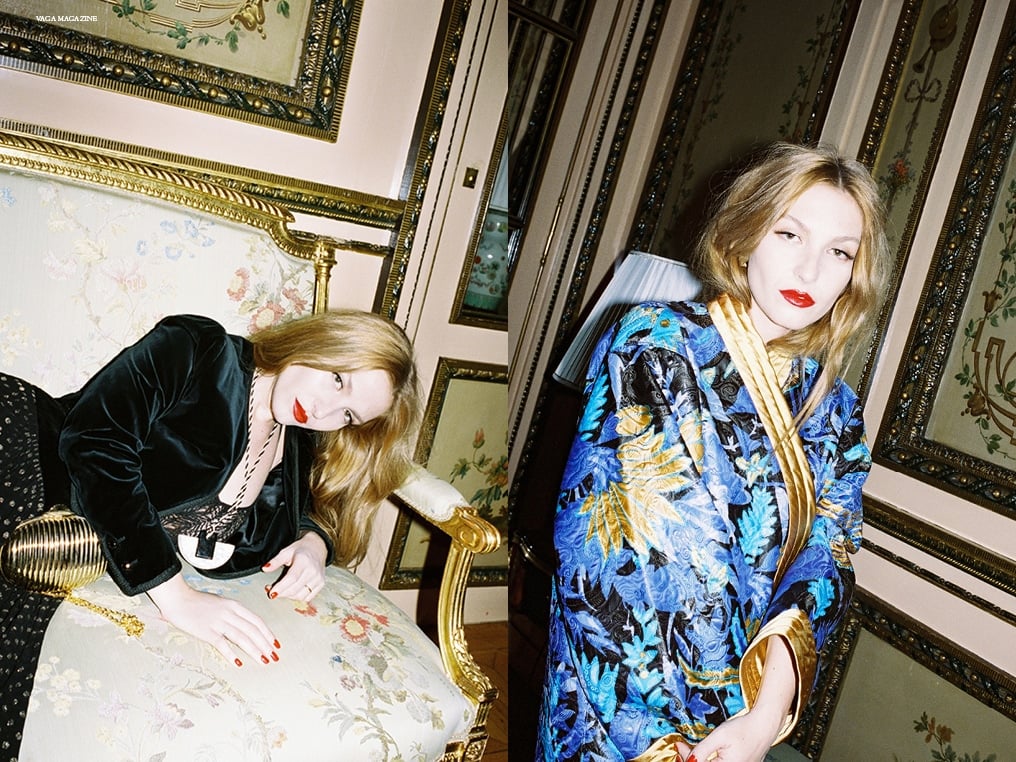 (left) Blue and golden Opium jacket with necklace vintage Yves Saint Laurent. (left) Black velvet bolero jacket vintage Yves Saint Laurent, Black lace bodysuit Roseanna, Golden metal clutch vintage Elie Saab, Black and golden long skirt vintage Escada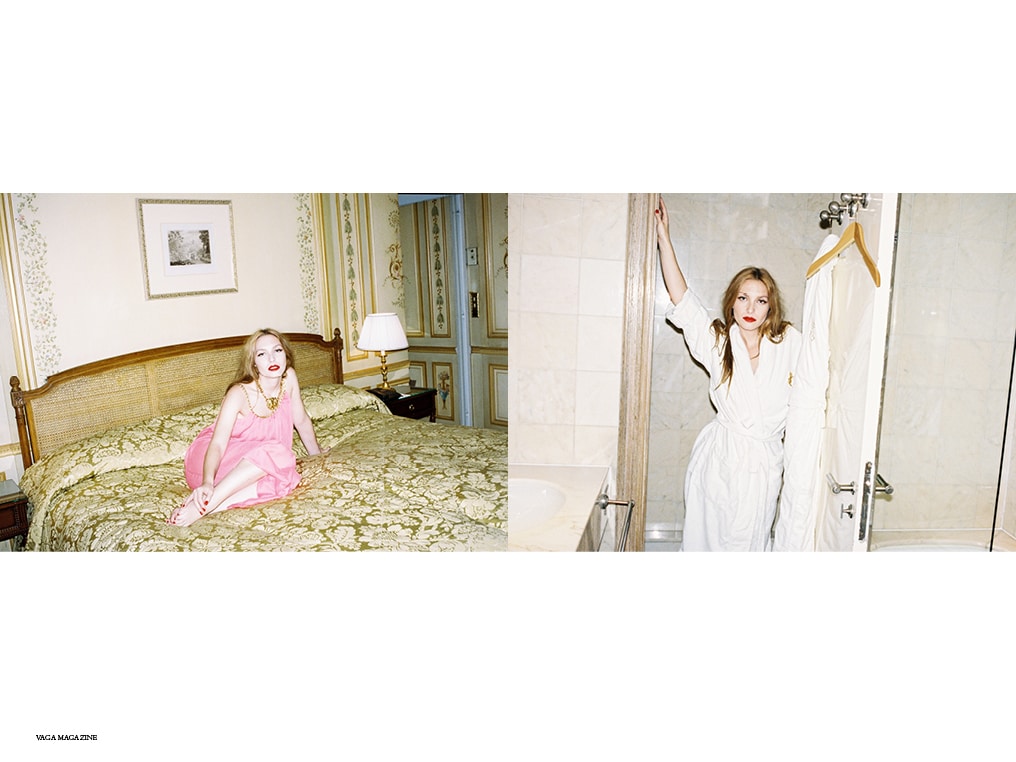 (left) Pink chiffon dress vintage, Golden metal necklace vintage Yves Saint Laurent. (right) White robe from Hotel de Crillon, Golden metal and pin Yves Saint Laurent
Interview by Roberto Reyes, Photography by Alex Brunet, Styling by Annabelle Jouot at Agence Saint Germain, Hair by Stéphanie Farouze at Jed Root, Make-up by Damian Garozzo at Jed Root using M.A.C Cosmetics, Styling Assistant Marjorie Chanut.
ROBERTO REYES: How did the role in Rush come about?
JOSÉPHINE DE LA BAUME: Ron Howard was auditioning in different countries for this girl, so first I went to the audition with the casting director and then I heard that he was still auditioning for a while, so I thought I hadn't got it. The casting was very long, then I heard that a friend had gone to the audition. Then I got a callback with Ron Howard; first of all I was just very excited to meet him. Then I did the scene again. He was very nice, very kind and we talked for a while about movies. Eventually I did my improv, and always when you do an audition, you're like "Ah, I was ok but I could have done so much better." And then I got it, I was super happy. Not only is Ron Howard an incredible director but he's an incredible actor so I was really excited to get to work with him.
What's most memorable from working with him?
First of all because he's an actor as well, he gives you very helpful advice because he knows what it is that's really going to make that scene more interesting, be more in depth with that moment. I think one of the best things that he mentioned is "every detail matters." I think you see that in his movies in the way the actor uses the space and everything that's in the image that he decides, whether it's the set, the costumes, the way that the action is being played – everything matters. He's very much a perfectionist, that's why his movies are so beautiful, so epic. He really pays attention to every detail.
Did you feel any differences in an American production versus your native France?
Not really, I don't really think of it like that. I think the only difference is on French movies there's wine [laughs]. There's always wine for the lunch break in France. Each movie is different, whether it's American, French or Italian. I think of it more as one project with one director, especially on top of it, too, there are so many co-productions, sometimes the movies seems American then you discover there's French production, then German.
What do you love about the role of Agnes?
She's a very tough woman. She's quite feminine but at the same time carries big responsibility.
"Kiss of the Damned" seems to be more inspired by the sophisticated vampire of the '60s and '70s, an archetype absent in the vampire craze of the last few years. Were you skeptical at first of taking part in a vampire film? 
No, I was extremely excited! Like a lot of kids, I was completely fascinated by vampires when I was little. One of my favorite movies is Roman Polanski's Les Bal des Vampires, that is what we call it in France, I believe in English it is called The Fearless Vampire Killers. I think vampire movies are so sensual- it's pretty much just an enhanced version of humanity in a way. There's something extremely poetic and fascinating about impossible love stories. The music is always incredible. I always wanted to play a vampire. I think the part of Djuna was definitely one of the most interesting ones I've played because she's been around for 250 years and she falls in love for the first time so you have to play her as a woman who is wise and seen a lot, but at the same time is also this innocent girl. It was an interesting contradiction.
You come from a several-decades long lineage of gorgeous French starlets that appear to be carelessly cool – why are Americans so obsessed with that?
I didn't really know that people were obsessed with that but it's great that they are! I think there's a vision of French girls, people think they are quite nonchalant but still cute or maybe it all has to do with new wave movies where they were actually very beautiful, all the actresses. I don't really know… I think French women are great at pretending they haven't made an effort but they probably have. Maybe they just look like they wear less makeup. They actually probably wear just as much.
If you could live in the reality of any film world, which would it be?
The Royal Tennenbaums. I love movies that can address heavy topics or life matters with lightness and derision, it is sometimes even more powerful and definitely charming. I love Wes Anderson's tone. When I wake up I never know if I am having a nervous breakdown or if it's the most beautiful day of my life. I relate very much to this feeling of mixed melancholia and awkwardness, an eye that looks at everything with distance, innocence and humor. Plus the aesthetic of his movies is just perfect. Ah, if the world looked like a Wes Anderson movie!
How did the idea of Singtank form?
My brother and I would play music together, even as kids. We both played piano. I took piano lessons and all that. I think simply because my brother is a boy and I'm a girl, growing up that was the only thing we were both into. I wasn't into video games and he wasn't interested in listening to my boy-crazy stories. So the only thing we could relate and bond on was music. We both listen to a lot of music and we actually have quite different tastes. We were always very interested by the other's they're not radically different we could listen to different music and like each other's taste, too. But I would always pop into his room and I would make him listen to new records that I found, and he would do the same with me. Growing up I was a massive fan of Michael Jackson, he was a massive fan of Elvis Presley, so there was a bit of the " Who's the King? Who is the actual King?" He had his hair like Elvis and I dressed like Michael Jackson, so he definitely looked better than I did, I think. Then we decided to branch out and play music together then eventually the music became better and we sent it to a bunch of people. One of them was Nellee Hooper who produced Massive Attack and Bjork, and he really liked it. He first lent us the studio in London to make better demos. When he heard them, he offered to produce the record. I think I was acting and my brother was working in production. It was such a pleasure to do this together, I don't think we thought we could really do it as a profession, because there was no idea of painful labor. It was really fun.
Nellee Hooper is a legend in music the same way Ron Howard is in Hollywood. What's it like to work with him?
It was incredible. I have so much respect for him. I love Massive Attack and I think the work he did with Bjork was so creative, the way he recorded her on certain records. We also worked with Alan O'Connell who is an Irish producer. It was interesting to work with two producers. Nellee is so experienced and someone who would give little advice but always the right ones, less is more in a way with Nellee. Whereas Adam would try a million things with us and we would pick the best one. So there were two really different ways of working and it was really interesting to discover both. I think in the beginning when you're with somebody like Nellee who is a legend, you don't really dare say too much and then you just become friends in the studio and you forget. Of course we were so appreciative that he actually trusted us because when he did, that's when we started believing in Singtank, believing it possible to be a real band. We were kind of born in the studio in a way, because we made a record before we played a show, which is usually the other way around. I owe a lot to Nellee and to the trust he put in us, because then we got signed and all that. We became really close, really good friends. Working in the studio you spend so many hours looking into each other's eyes, that you kind of forget it's Nellee, you're just trying to make a great record.
Which albums can you not live without?
Pulp's This is Hardcore. Not live without, that's kind of tough. I guess Jacques Dutronc's En Vogue, a French record. Fashion, film and music are three worlds with lots of fluidity with each other. Despite relative success in multiple arenas, very few people are able to completely cross over and be defined by more than one – from Madonna in music to Jason Schwartzman in film.
If you were only allowed to choose one to be remembered by, which would it be?
Maybe I can say Ci-music. It's a word that merges cinema and music together so I don't have to choose.
Movie-sic! [laughs]•
Special thanks to Joanna at IMG and Constance Guyard from Hôtel de Crillon. Production by Jeanne Hancock at Factory MGMT.