The latest trend in men's fashion comes from the forthcoming TikTok social network. The eboy style may be guided towards a younger audience, but some features can be integrated into a more modern style. Here is how to dress like an eboy and stay current in 2020.

If you want to dress like an eboy think emo. The look is characterized by its emo-influenced appearance. The typical outfit has skater-boy, goth, as well as, a ton of influences coming from k-pop style, 90s grunge, 2000s normcore to Billie Eilish—and her recent "Bad Guy" song. Finishing off things with strikingly dyed hair and graphic makeup that often featured a little heart or teardrops under the eyes.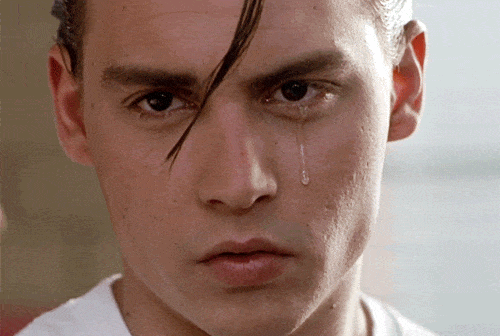 There are many examples of eboy types in Hollywood and popular culture. From Johnny Depp's impersonation of Wade "Cry-Baby" Walker in John Waters 1990 cult movie Cry Baby —in a 50's rockabilly way— to 'softboy-of-the decade' Timothée Chalamet.
Essentially, a good eboy outfit includes Thrasher T-shirts—and alike—worn over long sleeves, Vans, wallet chains, and black nail polish. Eboys are basically gothic, but they're not made fun of as much as someone who calls himself goth because their looks are seen by girls nowadays as cool.
Looking at how eboys dress, it also seems obvious that what comes next is simply more skater, urban, Supreme-ish style, this time tightly wrapped up in some skinny jeans, mismatched pieces and nail polish. All in order to create a casual look that isn't that casual at all.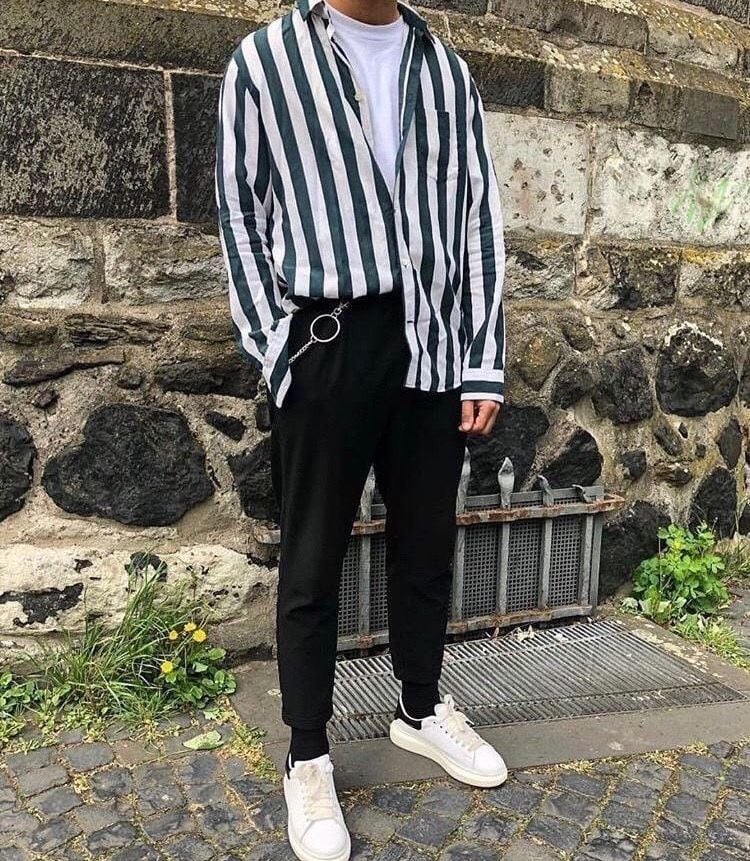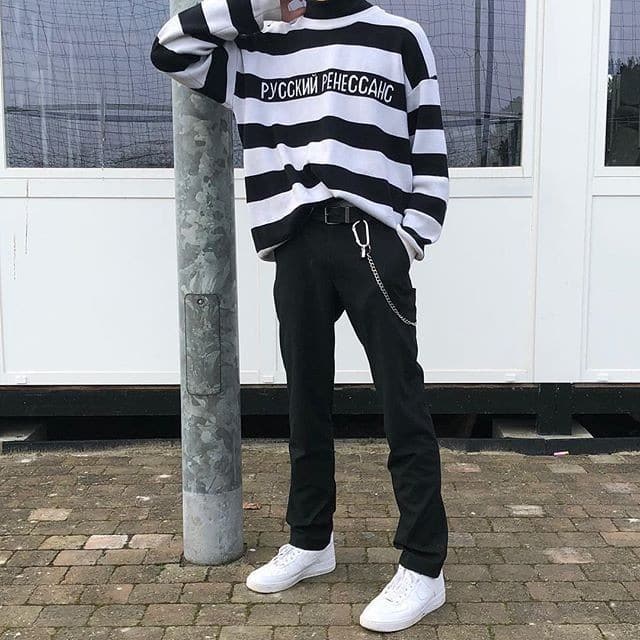 It seems that many high-end designers agree as some of the largest New York City, London or Paris retailers reams of clothing that look like grown-up updates to eboy apparel. You'll see design teams at brands like Off-White, Celine, Rick Owens, Alexander Wang or Jacquemus testing the eboy look for 2020. 
Here is an overview of how to dress like an eboy and keep on with current trends on your 20s (or 30s…)

Layering, Stripes, plaid joggers. Clashing is an essential part of the eboy look. Every combination of colors works so long as you know how to layer.  Wearing at least a minimum of three layers, combining denim and zip-up hoodies, the whole point of the eboy outfit is to look as unfit as it can.





Chains. You can either use it as a choker, wear it as a bracelet, wear it as an earring, use it as a belt around your pants. It is a decorative element as well as functional for every eboy look.




Androgynous, unisex, gender-neutral aesthetic. This is maybe one of the most interesting parts of the eboy look. The aesthetic is soft and feminine as possible whilst still maintaining the air of the skater, urban guy. Dyed hair is a key component + k-pop style haircut:






Black Nail polish. Get some nice black nail polish but don't go crazy or too weird.  Chipped manicure, looking like you don't care, but you do, is part of the main ingredients of the eBoy look.

Some good eboy nails examples:






Shoes. You'd need the perfect pair of shoes to complete your outfit. Leave your shoes loose enough so it'll untie itself as you're walking down the street. You don't really care that much. (images @alexgianola at Tiktok)



The classic Vans, Doc Martens, ankle-high boots and, of course,  Converse All-Stars a forever stylish shoe you can find everywhere, but they're also a signature of the eboy wardrobe.





For some more visual inspiration on how to dress visit men's style editorials.