Llyn Foulkes: One Man Band by Tamar Halpern and Chris Quilty
Following Llyn Foulkes' pivotal retrospective at the New Museum and the last exhibition at Andrea Rosen Gallery, there is a new documentary on the interior life of the Los Angeles-based artist. "Llyn Foulkes: One Man Band", directed by Tamar Halpern and Chris Quilty offers a unique look at the life of the artist leading up to this major international exhibition and the re-emergence of Foulkes after nearly three decades of being overlooked by the art world.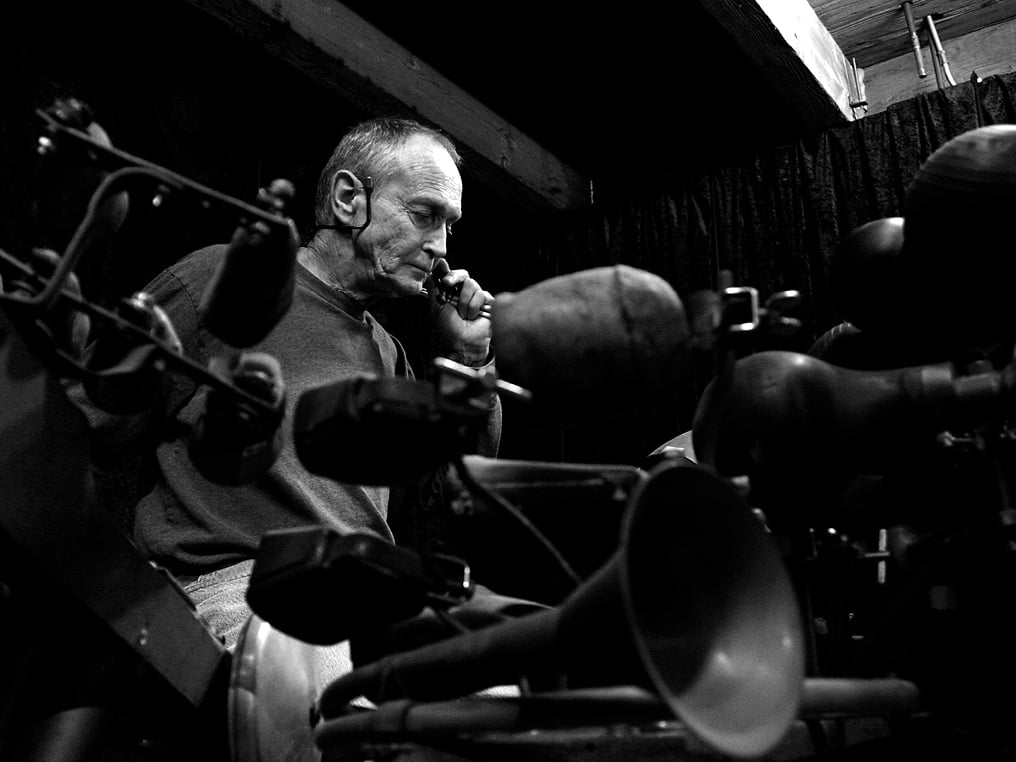 Llyn Foulkes and The Machine
Oil, acrylic, and mixed mediums. 31 ½ x 26 ¼ x 2 in. (80 x66.7 x 5.1 cm). The San Jose Museum of Art. Gift of the Lipman Family Foundation, in honor of the San Jose Museum of Art's 35th Anniversary (2003).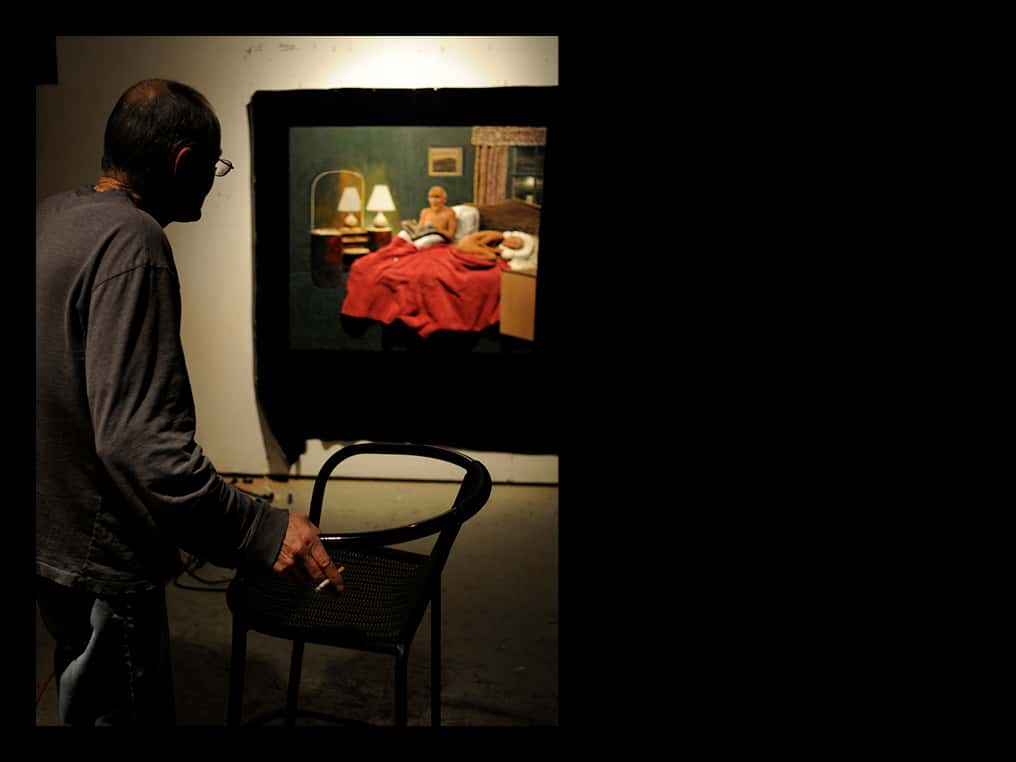 Llyn Foulkes. The Lost Frontier, 1997-2005. Mixed mediums. 87 x 96 x 8 in. (221 x 243.8 x 20.3 cm). Hammer Museum, Los Angeles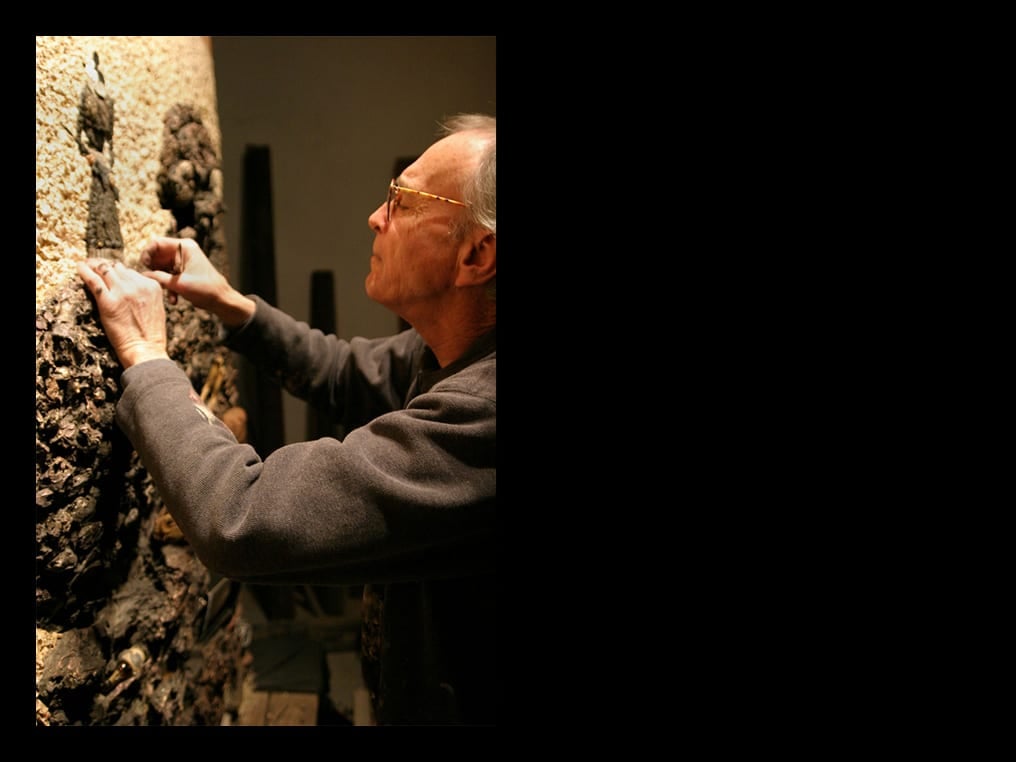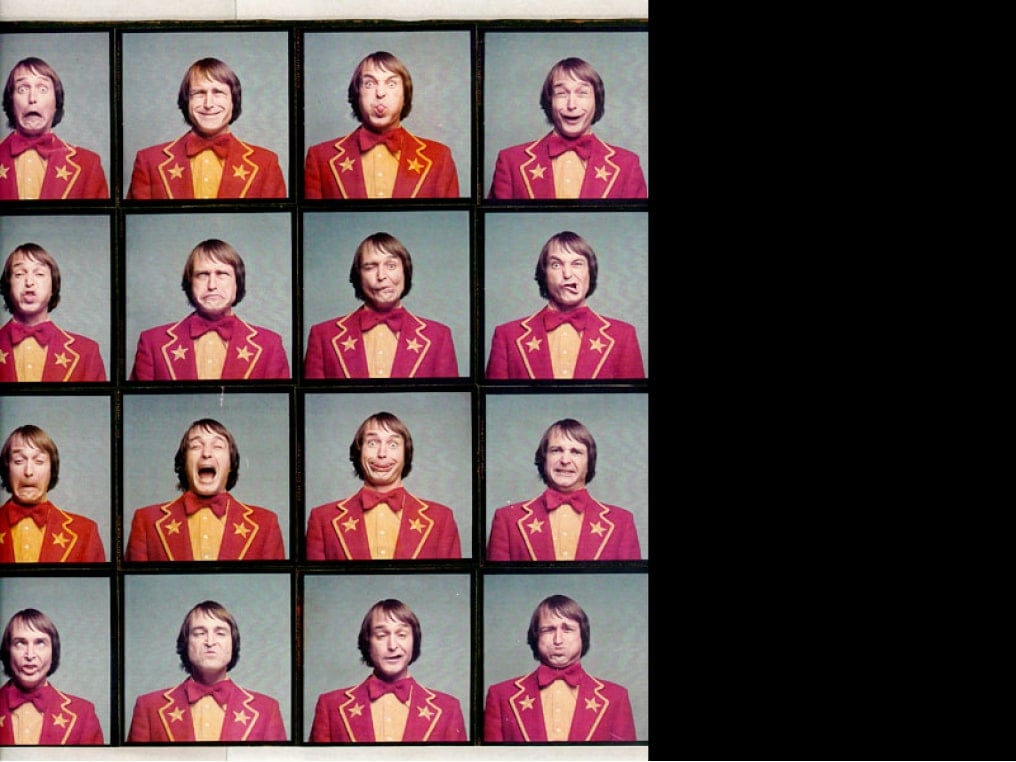 "Llyn Foulkes: One Man Ban" is available at http://www.llynfoulkesfilm.com
words and interview by Keri Oldham
Recently dubbed America's most famous artist that you've never heard of, Foulkes combines a folk aesthetic with wood-cut tableaus that unravel American heroic icons: from Mickey Mouse, to Super Man, to politicians and even art critics. Some of the most visually complex and unprecedented pieces in the film were works that the artist, who is 77, created within the last fifteen years. One Man Band explores the roller coaster of events leading up to his retrospective, as well as Foulkes's passionate conviction that he was, in fact, purposefully ignored.
Foulkes is a straight-shooter, well into his seventies, he appears ready on film to tell you exactly what's wrong with the art world today.  He performs in limerick, including a 3-minute rhyming introduction to the film on his life, deep frustration with art critics, and his take on the commodification of art by real-estate developers and self-serving collectors.  Foulkes visits the same sandwich shop each day with the dedication of a regular; he plays at a massive self-invented musical instrument called 'The Machine,' and continues to carve away at his large wooden tableaux paintings with fastidiousness of a monk. Many of his works- including The Last Frontier, one of the most prominent pieces exhibited during his show at The New Museum, depicting a vast trash dump and Mickey Mouse dressed in a woman's frontier dress- have taken up to 8 years to complete.
In the 1960s, when he first began exhibiting work, Foulkes enjoyed a meteoric rise; he was picked up by Ferus Gallery in Los Angeles, a legendary gallery that premiered artists such as Andy Warhol's first pop art show, Ed Ruscha, and Robert Irwin.  Recently the subject of another documentary, The Cool School, this gallery was a hotbed for artists of the time creating work and a new LA art scene.  Foulkes was picked up by the gallery while he was still in art school, and had his first solo show in 1961.  He then built up a reputation as a Pop Art painter with more sizable successes: representing the United States at the São Paulo Art Biennial in Brazil, winning the 1967 prize for painting at the Paris Biennale, and picking up solo shows at the Pasadena Museum of Art (1962) as well at the Oakland Museum of Art (1964). Within a few years, however, Foulkes was kicked out of the Ferus Gallery stable, due to what may have been friction with other artists. After Ferus Gallery, he walked away from making the Pop Art paintings he was known for and began to see his art career slowly dry up.
In the film, stories and interviews from different historians and curators diverge on why Llyn's work came to be ignored by the L.A. arts community. Llyn argues in the documentary that he was dropped and blackballed after making a disparaging remark about the work of Robert Irwin- one of the most visible Light and Space artists. What is apparent in the film is that, while his contemporaries from Ferus Gallery catapulted to success, Foulkes backslid into obscurity. After years of struggling, even trading paintings for rent, the documentary offered Llyn an opportunity to air his passion: both his frustration with the corporatization of the art world and his will to continue painting. As fortune or fate would have it, even as this redemptive documentary was being filmed, Foulkes was independently re-discovered by Ali Subotnick, curator of UCLA's Hammer Museum, and included in the seminal exhibition Nine Lives an exhibition that would change the tides for Foulkes.
The documentary is a fascinating window into a critical time for Foulkes. His perspective often ventures into sour-grapes; and yet it's hard not to be struck by his dedication and the freedom he has give his practice by not following the usual trajectories. His anxieties and desire to be remembered are emotions that will be familiar to any artist, though made more poignant because Foulkes is now in his 70s. His obstinateness towards the art world may have almost dried up his career, but it is precisely his search for fairness and truth that marks the amazing vitally in his work. His dogged pursuit of false heroes and hypocrisy plays out in his paintings and strikes at the heart of American society and culture. His work mourns the loss of our childhood heros from Mickey Mouse to Super Man, and has a way of rolling humor, heartache and outrage into a one spectacular show.
I had the opportunity to talk with "LLyn Foulkes: One Man Band" director Tamar Halpern from her home in Los Angeles about the documentary and Llyn's current exhibition. You can find a link to the film's trailers here http://www.llynfoulkesfilm.com/
I read you met Llyn Foulkes at the "Brewery Arts Complex in LA". What is that?
The Brewery is a 33 acre complex that was once The Pabst Blue Ribbon brewery, it was purchased sometime in the 70s and at some point it was converted into lofts for artists. I lived down there in the nineties and Llyn moved in around that time after his divorce. During his marriage, he lived up in Topanga Canyon, which is radically different from living downtown near freeways and the railroadsTopanga is very rural, with winding roads and mountain climates. The Brewery made sense as a new home for him because he had an instant artist community and a restaurant walking distance from his loft. Kind of great for a sudden bachelor.
So it's residences, is it also studio spaces?
The Brewery is a live/work type of complex. Twice a year they have open studios, called Art Walk, and Llyn used to always play his machine, which of course was a huge crowd pleaser.
What made you and co-director Chris Quilty decide to take up this project?
I cast Llyn as an actor in my feature film "Your Name Here" (available on www.thewatchbox.com), which Variety took note of in the review, citing a "lovely, goofy turn by the American painter Llyn Foulkes." Chris did production sound on the film and immediately wanted to do a documentary about Llyn. Then a good friend of mine, Raphael Rubinstein, who was at that time the managing editor of Art in America, was coming up to LA to give a talk at MOCA. While in town, I took him to a studio visit with Llyn. After I introduced them and Llyn showed him what he was working on, Raphael sort of yelled at me, saying, 'Why aren't you making a documentary about Llyn? You have such a rapport with him, he trusts you, he really genuinely likes you. You should do this- you're crazy not to!' And so, I took Raphael's advice to heart. Chris and I teamed up and spent weekends filming in Llyn's studio as he raced to finish a massive painting called The Lost Frontier- now considered one of his great masterpieces, but back then it seemed more like a major obstacle as Llyn had spent eight years working on it. So it was all Raphael's fault!
Llyn seems like such a natural performer and very comfortable talking about his personal life. Did it require more prodding off screen?
What you see in the film is pure Llyn. If he likes you, he will talk to you. He's a very forthcoming individual. He doesn't censor himself, he's very true to what he's feeling, thinking or experiencing at any given moment. Which I think is a quality that many great artists have. They worry less about what other people may think and react completely to what is important to themand then they translate that into their work.
My favorite pieces in Llyn's retrospective at the New Museum are the ones we watch him working on in your filmpieces that literally took him years to finish because he won't stop working on them. The art handlers have to just take them away…
We thought he was kidding when he said that about the The Last Frontier. "They have to take it away from me, its never really done." And we thought, oh he's just posturing for our camera. We had no idea that it was really a theme for him. As we continued filming for the next seven years, we discovered it wasn't just the The Lost Frontier that took years to finish. The Awakening (also called The Bedroom Painting) had a twenty one year history of 'finishing'.
And at one point he even compares finishing paintings to death.
Yes, he says something like, [painting] it's like your life. You have regrets, loves, this to do and that to do, and it's never finished- until it's finished! I love that part of the film. It was a particularly amazing interview. Almost every interview with Llyn was amazing though. We have so much footage that we didn't include. There's one interview we call 'The Rant,' which was shot on the first day we filmed. He flung his front doors wide open and went on this sort of vaguely art historical rant as it related to him-and then he ended it by saying 'cut.' And while it doesn't quite make sense, because it's more fueled by more passion and anger than logic, his performance is just off the wall. He's animated and funny and angry – it's one hell of a rant. We tried so many times to include it in the film but ultimately, it just wouldn't fit. We had such a great time with his sense of humor. He's a really funny guy and irony is no stranger to him.
You also wanted to know why his work had disappeared from the art world, so to speak. Was it difficult asking him those types of questions?
He wanted to talk about it and he had theories, ranging from it being his own fault, that he wasn't nice enough, he didn't play the art game, or that the art world is too controlled by real estate developers and rich people who only like flat, easy to recognize art. It was more difficult interviewing curators, artists and art historians because we were clearly coming at it from Llyn's perspective, asking leading questions like "Why has he been written out of art history?" We probably weren't perceived as being objective film-makers. We interviewed Paul Schimmel, who was the Chief Curator at MOCA, and asked why Llyn had been erased from art history. He said, 'Llyn hasn't been erased, he's been well represented. He just isn't as well recognized as some of his contemporaries, but he certainly has presence.' I think Paul even mentioned the word 'paranoid' at some point in the interview. Then we interviewed Denis Hopper who said, 'I don't think Llyn's paranoid at all. He really has not been given his due.' Cécile Whiting, the University of California Irvine Art professor, said sometimes when an artist doesn't fit neatly into a category, they can fall through the cracks. And that's probably what happened to Llyn, but Cécile pointed out that happens to a lot of artists. It's really interesting to think about how someone as talented and powerful as Llyn was ignored for so long.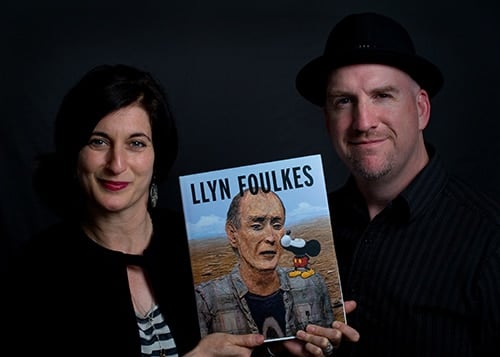 Why do you think things changed for him?
A major museum took note of him. Ali Subotnick at the Hammer Museum curated a show called Nine Lives [2009] and it helped Llyn tremendously. She is the one who really shifted things for Llyn. She came from New York and was tasked with finding nine interesting Los Angeles artists, so she started asking around. She didn't know any gossip or history or black listing – she didn't know Llyn had been kicked out of Ferus Gallery. She was fresh, wide-eyed and ready to make a discovery, like an archeologist, and someone clued her in to Llyn Foulkes. I don't know who it was, but whoever it was changed the course of Llyn's career. Ali gave Llyn the opening room in the Nine Lives exhibition and it was the first time people had a chance to see selections of Llyn's work from the 1960s till now. His work all suddenly made sense. Everyone got it. This man has an incredible body of work that makes sense when you see it collectively. And I think the show also finally satisfied the art market's need for a recognizable, signature type of artwork from Llyn.
It's so amazing that he continued to let you in over a period of 7 years, and you documented such a change in his career. Why do you think he agreed to the project? How does he feel about the film now?
He felt so marginalized by the art world when we first started filming. I think he felt genuinely excited that someone wanted to listen to him and would champion his cause by making a film about him. After all, he had been blackballed and ignored unjustifiably. But now that he's finally getting his due and his career is where he wants it to be – where it should have been all along – he's understandably conflicted about the film. It's uncomfortable to let people in on the sort of sour grapes he experienced when he didn't have the success he has now. While he appreciates the effort that we made, he's not completely 100% excited about the film. Although he is warming up to the idea that the film creates more interest in his work, especially because there were decades of struggle, but there's a part of him that just wants to waltz into his openings without a care in the world, leaving all the suffering he went through behind him. He wants to enjoy his new found reputation as a world class artist without any skeletons in the closet. The film doesn't really allow that.
I think people definitely want to see his struggle because it's what 99% of all artists go through at any age. The fact that Llyn is almost 80 makes it even more interesting. Do you think he's finally reached the place he's been working toward?
I think he's spent almost a year going on this wild ride, being flown around to openings, closings, museum visits, performances on his Machine at Documenta, collectors buying up all his work – it's been a huge change for him. But he's still the same guy, not trusting the art world, but enjoying the attention while it's there. It's comforting to know he's not trading paintings for rent anymore, or getting advances from his New York gallerist Doug Walla. He now has money in the bank and can take care of kids and grandkids the way he's always wanted but he's still wearing the same clothes, driving the same old, beat up white van, renting the same loft. When he used to worry about money, he'd bemoan, "I don't want to leave my kids just a bunch of paintings when I die." It's ironic because now, finally, they're incredibly valuable. We're happy for Llyn, more than anything. We were invited in for this wild ride and now that we're done filming, we are huge fans of his, both as an artist and a man. We love him, really. It's impossible not to.