Youth LGBT Stories: Andre Johnson, New York
Andre Johnson's story is not for the weary. His life begins like so many of today's oppressed urban black men. The 33 year old gay male was raised in the projects of Newark, New Jersey in the 1980s by a struggling single mom. But in spite of the darkness, he managed to find a method to the mayhem: 'Kill the world with kindness and do it in a lovely frock to boot!' Andre's good vibrations haven't gone unnoticed either; turning the heads of everyone from Patricia Fields and Jay Leno to French Vogue and "The New York Times". Andre's 'I don't give a shit' attitude could very well be the start of a new fashion renaissance of gender-bending freedom that started right here in NYC! Photography Michael Flores, interview Abbey Miller, words by Robbie Sosa.
Abbey Miller: I saw an interview where you said somebody thought you looked like Jesus, and you said you and he shared some qualities. What about you is Christ-LIke?
Andre Johnson: Well, I can part the sea. Or, at least a sea of people! Every time I want down the street, people stop and make way. They either react by saying "what the f**k" or "thank you for expressing yourself." I try to be positive and uplifting as much as I can as well.
AM: If nothing else, you're one-of -a-kind like Jesus. You make it look so easy to just be yourself and be happy with it. What's your secret?
AJ: There used to be a culture of expression and creating yourself, like in the days of Studio 54, Divine and Warhol. They were creating who they were. Now people are trying to be clones of who they think is "cool." People should make their own definitions of cool and enjoy themselves. I enjoy being myself so much! If we are going to be here, why not make it enjoyable and memorable. I chose for people to see me as a good human being.
AM: So tell me about growing up in New Jersey. Was it tough?
AJ: Growing up in the projects in single parent I already knew that was not the life for me. I knew there was something bigger out there. I wasn't going to settle. Once you become aware of what you are, you send out signals to the universe, and things come into your life. It's the law of attraction honey.
AM: What experiences growing up led you to be so positive and creative?
AJ: I was molested repeatedly when I was a child. It allowed me to realize I was different. When something like that happens to you, you have a choice to either become bitter, and a bitch or be positive. I decided to be positive.You're never going to please anyone, so you might as well please yourself. Through everything, my trials and errors, being called a fa* and constantly being made to feel less than, I learned that I am the positive energy. I am joy. I am beautiful. I tell myself that every day and I have become who I am. Every experience brings you closer to your expression. So f*ck everything else.
AM: What was it like being "discovered" on the street by the legendary Joe McKenna?
AJ: I was acquainted with Joe because I was working with Patti Fields at the time. I was walking down the street in this neon green kaftan and he stopped me and said "Andre! Come here." I walked over and he said "I'm on the phone with Bruce Weber, he should shoot you." I said "yeah ok, get ahold of me." I didn't really expect it to happen. Next thing you know he called me and asked me to come to a casting. I know Bruce likes body, so I wore sequin underwear. They decided to shoot me. Carine (Roitfeld) and Bruce were so kind to me, they are the definition of professionalism.
AM: That is incredibly synchronistic. I'm sure you didn't wake up and go out thinking that was going to happen to you.
AJ: Synchronistic? I like that word, girl. It was crazy and amazing.
AM: What do you think of the national anti-bullying/noH8 campaigns going on right now?
AJ: It's necessary. We need to be able to express ourselves and not be ridiculed, or harassed.
AM: What defines "style" to you?
AJ: Personality. Individuality. Expressing yourself. If thou really look in a mirror and smile it's so beautiful. It's so authentic, so attractive and attracting. That's fierce.
AM: What do you foresee as "the next big thing" in fashion.
AJ: Positive energy. There is a new culture bubbling up to the surface. There is a new culture emerging. I'm thrilled for all of us to collaborate and make something beautiful. The control hinders freedom. Fashion is becoming this dry monotony. It's not about looking like anyone else, it's about expressing my beauty. I think that's where fashion is heading.
AM: What's the next big thing for you?
AJ: Television and then movies. I want to be a superhero. I need to leave a positive legacy behind through new mediums.
Andre J. might not be the messiah, but he is definitely at a level of self acceptance everyone should strive towards.
Jumpsuit THE BLONDS, diamond necklace in white gold POMELLATO, pearl choker necklace KENNETH JAY LANE, gold bracelet with diamond ends vintage CARTIER, gold chain bracelet RJM GROUP, swarovski bracelet RJM GROUP, diamond ring KENNETH JAY LANE, ruby ring with diamonds vintage CARTIER. Previous page: Red fur ADRIENNE LANDAU, black satin dress KIKI DE MONTPARNASSE, black diamond cuff KENNETH JAY LANE, diamond necklace POMELLATO, gold chain bracelet RJM GROUP, diamond thick tennis bracelets BULGARI, diamond ring KENNETH JAY LANE, boots ELLIE SHOES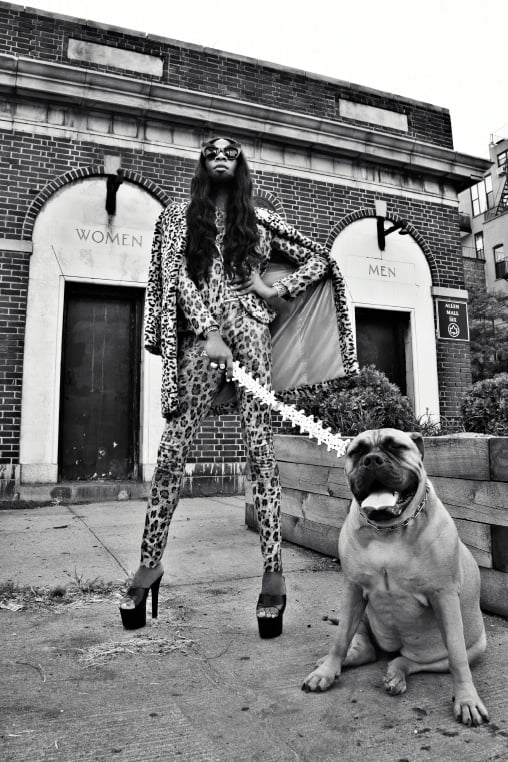 Leopard print shirt, leather pants, leather blazer and coat BLUMARINE, cat ear sunglasses MERCURA NYC, diamond broach vintage CARTIER, gold Belt B-LOW THE BELT, gold cuffs YVES SAINT LAURENT, gold ring and white gold with black enamel ring KENNETH JAY LANE, shoes Ellie shoes, leather belt dog leash ZANA BAYNE
Silver trench coat BLUMARINE, white leather belt ZANA BAYNE, animal rings KENNETH JAY LANE, gold choker necklace with diamonds KENNETH JAY LANE, boots ELLIE shoes
Gold leather jacket BARBARA BUI, black satin bra AGENT PROVOCATEUR, sunglasses MERCURA NYC, velvet turban HARLEM'S HEAVEN, diamond ring KENNETH JAY LANE, gold chain bracelets RJM GROUP, diamond bracelet KENNETH JAY LANE, swarovski bracelet RJM GROUP.
(On Andre) Dress HERVE LEGER, fox fur ADRIENNE LANDAU, gold lion pendant necklace KENNETH JAY LANE, gold choker necklace vintage BULGARI, shoes Ellie shoes. (On Felix Bujo) Jean jacket with sheerling vintage Levi's, white button down collar shirt RALPH LAUREN, jeans Just Cavalli, white socks CALVIN KLEIN, black leather loafers BASS&CO.
(left) Black catsuit KIKI DE MONTPARNASSE, black rabbit fur jacket ADRIENNE LANDAU, black felt hat HARLEM'S HEAVEN, art deco diamond bracelet KENNETH JAY LANE, diamond tennis bracelets vintage BULGARI, Shoes Ellie shoes. (Right) Bodysuit HERVE LEGER, satin gloves CAROLINE AMATO, gold chain bracelet vintage CARTIER, pearl drop earrings vintage CARTIER, shoes ELLIE shoes.
Red satin and lace bodysuit Julia Restoin Roitfeld for KIKI DE MONTPARNASEE, Red leather cone bra ZANA BAYNE, black wolf fur shawl ADRIENNE LANDAU, diamond necklace KENNETH JAY LANE, pearl necklaces RJM GROUP.
Crew: Stylist Kisha C. Jones, Make-up Tsipporah Liebman using Dior Cosmetics, Hair Jason Murillo @ DeFacto, Photo Assistant Jordan Jablon, Casting Laine Rosenberg, Dog Handler Drew Wiedemann, Male Models Ben Waddell @ New York Models, Rodrigo @ New York Models, Felix Bujo @ Soul, Jonathan Nielssen @ VNY.