On-and-Off Stage "The Black Angels" Take Me For a Ride
With psychedelic visuals veiling over them, The Black Angels opened their Webster Hall show with "Viking," a song from their Directions to See a Ghost album.The perfect intro with haunting vocals and ritualistic drum beats. Just the type of song to ease one into the shows psychedelic trance. Songs from their 1st album Passover, were performed with the same spontaneity and intensity as songs off their newest album; Indigo Meadow.
Live, The Black Angels take you through a time warp, not necessarily to the past but to something very novel. In a musical sense, they are what the past is to now; nostalgic yes, outdated never. –text and photography by Juliana Bojorquez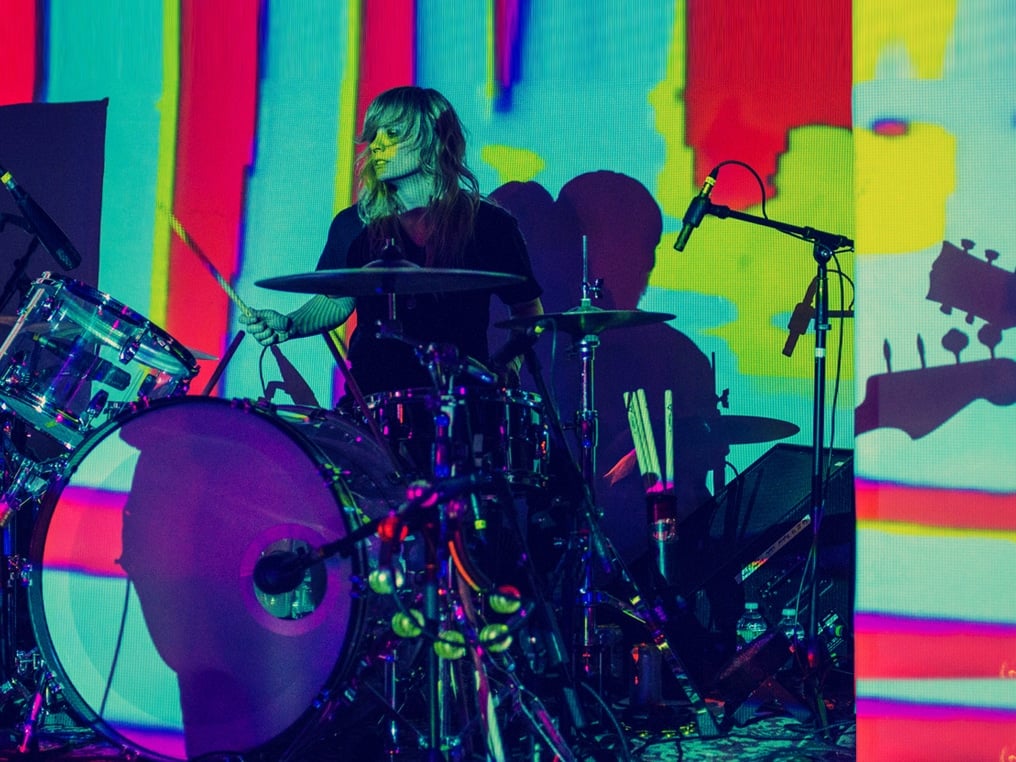 Perhaps it was the effects of the sweet smoke that filled the air, or a nearby fan cooling me with its breeze, but as Alex Maas sang: "Rolling fast down I-35. Supersonic overdrive," it made me feel as if riding through the desert on a motorbike, wind blowing through my hair, holding on for dear life.
Favorites such as "Young Men Dead," "Passover," and "Bad Vibrations" were even more enthralling live than on the album. Maas' vocals allured, while Stephanie Bailey methodically beat the drums. Mass' bass pulls you in deeper as Christian Bland captivates with gritty guitar riffs and his somewhat sinister back up vocals. Their new guitarist Jake Miller, played every song with ease and style; as if he had been with the Black Angels from the very beginning.
Songs like "Indigo Meadow" and "Holland" became new favorites. Maas' combination of lusty lyrics and vocals were even more sultry on stage. Bland's guitar creepily enters as noisily as it is dreamy. Kyle Hunt on the keys during "I Rather Die" and "Evil Things" was reminiscent to the legendary playing of the late Ray Manzarek. Tambourines shook and maracas rattled as if they were in the hands of a shaman. Trippy and on the verge of macabre; the band's talent truly shows as they each switch from instrument to instrument, and simultaneously play each one like a virtuoso.
The show came to an end with an encore of "Black Isn't Black." But the fun didn't!
Following the show, I found myself jumping in the band's caravan and hitched a ride with them to their after party in Brooklyn.
Just when I thought I was going to enter some Brooklyn dive filled with a plethora of Williamsburg hipsters, I was proven wrong.
Quite wholeheartedly, I found everyone in the band's "entourage" to have an amazingly laid back energy. By the sheer sound of their music you could easily mistake the Black Angels for being from NY or even LA. But after sharing a few drinks and laughs, you realize they lack the pretension and must be from somewhere else.
Hailing from Austin, it could have been that the Black Angels brought Austin's vibe to Brooklyn, or perhaps the Black Angels simply brought themselves and the genuine spirit of 60's psychedelia. Their sound makes you feel like you are in a different era. While watching them live it may seem like you are on a different planet, the band is down to earth. The night was about having a good fuckin' time alongside new and old friends, diggin' some great jams while knocking back your poison of choice. It was about the music and it's entrancing vibes, and believe me, The Black Angels keep you entranced way after the music stops and the party ends. Days after, I still felt the pulsating bass and ritualistic drumbeats. Hypnotic vocals echoed in my head; reverb, drones, and the wailing guitars still rang in my ears. Like a heavy trip on hallucinogens, their music lingers on in your soul.