This weekend's LEVITATION has been cancelled due to safety concerns regarding dangerous weather, the festival's official website reported today 04/28/2016
Fans of every era of visionary, tripped-out, elevated cosmic music will find something that will make them float six inches above Austin's cracked Earth, at the most recent incarnation of Levitation, formerly known as Austin Psych Fest.
Psychedelia is defined as "music, culture, or art based on the experiences produced by psychedelic drugs." It always seemed vaguely disappointing that so many artists and musicians interpreted this wide-open field of crimson clover and poppies as merely a re-creation of the late-'60s Haight-Ashbury scene. Sure, amorphous light shows are trippy, but so are late-19th-Century literary works like Alice In Wonderland or The Wind In The Willows, as are the speed-fueled paranoid guitar jams of proto-punk Garage Rock; densely layered, experimental Hip-Hop; dreamy, romantic Shoegaze; and basically every form of Electronic music that's ever been made.
Psychedelia's experienced a number of fascinating evolutions, so far, during the 21th Century. We're finally listening objectively, taking what we like about the past, and ditching the detritus. Austin's Levitation Festival, happening this year from April 29 – May 1 at Carson Creek Ranch, is the best opportunity lovers of visionary music, of all genres, will have to check out psychedelic sounds from all over time and space in one setting.
Whether you're planning on attending Levitation, or are just looking for an expertly curated list of excellent psych artists to set your imagination on fire with lysergic Aurora Borealis, we've compiled a guide to this year's Levitation, for the curious.
Levitation 2016: The Headliners
You'll of course want to know about the biggest names playing this year's Levitation, as that will be the largest draw for many. There are plenty of them, that's for sure!
Levitation: Friday April 29
If you're coming to Levitation, wondering whether or not Anton Newcombe will have another meltdown, check out The Brian Jonestown Massacre at 8:05 PM, Friday April 29, at the Reverberation Stage. The Brian Jonestown Massacre, being hugely influential on New Millenium psychedelia, are your chance to hear every era and genre of Psychedelic music in one set, sometimes in the same song.
Dan Auerbach of The Black Keys has also done more for re-vitalizing greasy proto-punk Garage Rock this side of Jack White's vinyl pressing plant. That's not ALL he does, however. Let The Arcs transport you, dreamily, with Auerbach's most recent psych outfit. The Arcs will play the Reverberation Stage on Friday April 29, at 9:55 PM.
This holy triptych of dreamy, floating sounds culminates with a much anticipated performance from the re-activated shoegaze legends Slowdive. Slowdive's follow-up incarnation, Mojave 3, featured a lot of desert landscape, so hearing Slowdive in the sunburnt mesquite fields of Austin, TX will close the circle, teleporting those lucky enough to witness the spectacle into some kind of eternal bliss state. Slowdive play the Reverberation Stage Friday April 29 at 11:25 PM.
Fans of horror-infused Stoner Metal will have their blood chilled with Uncle Acid & The Deadbeats at The Elevation Ampitheater at 11 PM, also on Friday April 29. Uncle Acid's most recent effort, The Night Watcher, follows a corrupt cop who is also a psychopathic killer. Show up, to see if you can solve the mystery!
Fans of psychedelic electronic music will be dancing on Saturn at the Levitation Tent, as Shabazz Palaces, Oneohtrix Point Never, Nicolas Jaar, and Flying Lotus tear it up in rapid succession, exploring the nebulous hinterlands between abstract House, Techno, and Hip-Hop, starting at 7:05 PM on Friday April 29.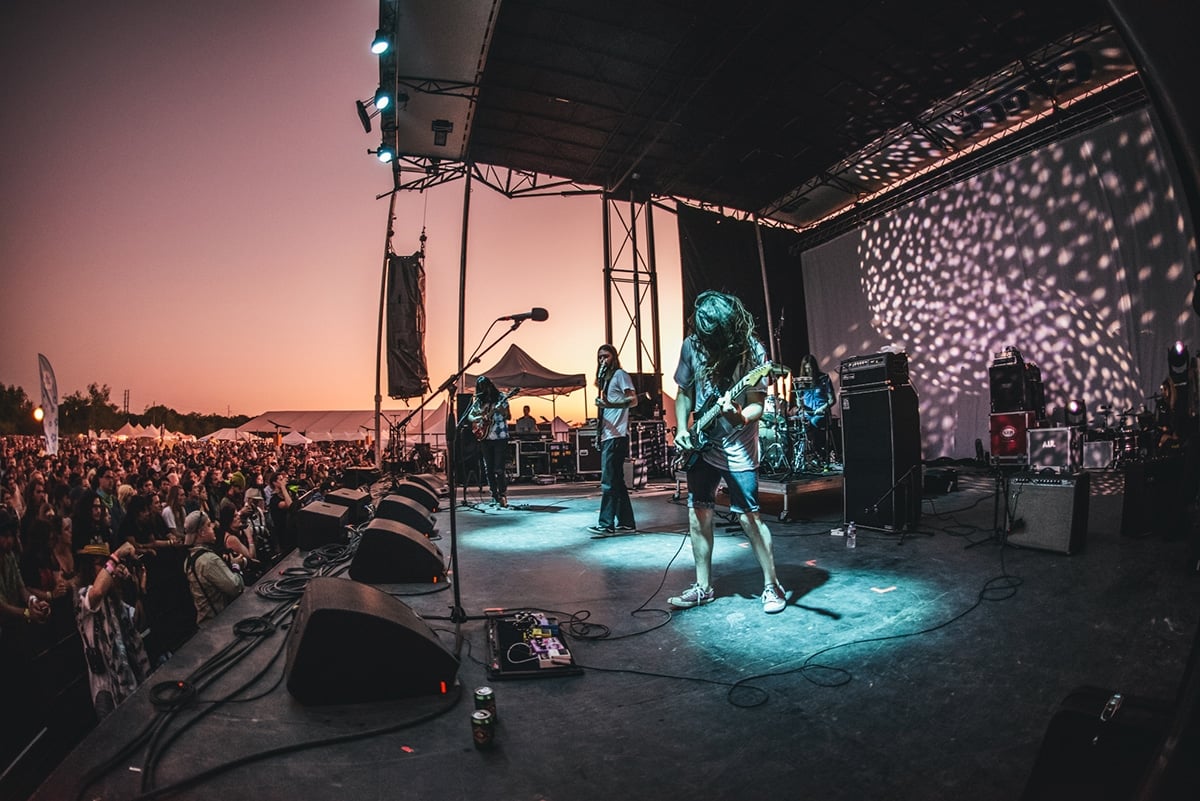 Levitation: Saturday, April 30
Fans of punkish, paranoid psych rock will twitch and scratch at invisible bugs with the weird-and-wonderfully-wobbly guitar rock of Parquet Courts on Saturday, April 30, playing at 4:35 PM. Stick around for Courtney Barnett, whose songs of innocence and world-weary experience should serve as some Vitamin B for Partquet Court's brown acid. Be warned, however, that you might end up spending all night at the Reverberation Stage, as three of the festival's biggest names will round out the evening: Austin's The Black Angels, The Beach Boys' resurrected messiah Brian Wilson, with 21st Century digital mystics Animal Collective closing the festivities, making for one of the most dyslexic stylistic line-ups you're likely to hear this festival season.
For the proggy psych rockers, camp out at the Elevation Stage on Saturday, April 30, starting at 7:30 PM, for a helluva triple-header of new psych supergroup Heron Oblivion, blending the ethereal folk of Meg Baird, formerly of psych folk outfit Espers, with epic axewranglers Noel Von Harmonson, of Sic Alps/Six Organs Of Admittance, and Ethan Miller of Comets On Fire/Howlin' Rain; then stick around for Brooklyn weirdniks Woods, who've just recently launched one of the best albums of their career, with City Sun Eater In The River Of Light. Finally, let Black Mountain take you back to when the hair was shaggy, the jackets were denim, and the guitar soloes were LONG, with their distinctive blend of intricate prog and raved up soul.
Let the metalheads rejoice Saturday April 30, unless they're weeping for missing all the other great bands, as the unholy trinity of Boris, Sunn O))), and Sleep do their best to drill a hole through the Earth's crust at the Levitation Tent with subsonic rumbles, starting at 8:25 PM.
Levitation: Sunday, May 1
Finally, for those whose minds, skin, or wallet haven't melted down by the final day, check out some of New Wave Psychedelia's biggest names, as Ty Segall no doubt releases 2 or 3 live albums over the course of their 7:30 PM show at the Reverberation Stage. Fans of modern Dream Pop will melt like a dreamsicle, then ascend to the stars, with Melody's Echo Chamber at 9:05 PM at the Elevation Stage.
Classic psych heads will have even more to flip their wigs on Sunday, as revered guitar rock gods Ween re-unite, in the biggest news since the announcement of Bill & Ted's 3. Reunited, can Gene and Dean finally bring about world peace? Show up at 9:15 PM at the Reverberation Stage to find out!
Smashing the age-ism of so much Indie Rock, Lee "Scratch" Perry will prove, beyond a shadow of a doubt, that being weird is not necessarily a young person's game. Find out what Scratch has in store, after burning down his studios in Jamaica yet again. Lee "Scratch" Perry plays the Elevation Ampitheater Sunday May 1 @ 7:35 PM.
The return of Indie legends Royal Trux will also take us back to a time before careerist Indie Rock, when musicians truly didn't give a shit, never took their sunglasses off, and even tuning instruments was optional. Royal Trux are the real deal – real weird, real edgy, real individuals. Check 'em out at the Levitation Tent, on Sunday May 1 @ 6:40 PM, before they implode again.
Make sure to stick around for Super Furry Animals, for the greatest in globe hopping Welsh psychedelic rock. SFA's blend of psychedelia, classic rock, and electronic dance music means that not only would modern day psychedelia probably not exist without them, neither would modern day festivals.
Finally, for the last, most hardcore fans standing, Dan Snaith's Caribou will close out 2016's Levitation festival with his particular, peculiar blend of psychedelic House/Disco.
Scary as it is to believe, even this mammoth list is just the tip of the Great Pyramid! Any band you're likely to hear at Levitation will be at least interesting, as musicians re-incorporate and re-invigorate music's inherent abilities to transmit images and emotions. Big props to the Levitation organizers, as well, for pushing beyond the usual white-bread/throwback rock so much psychedelia falls into. This year, there's African music, psychedelic salsa, and Satan knows what else. You'll just have to listen to find out, so relax, turn off your mind, and float downstream.
Levitation's Hidden Gems
Blaak Heat
Pinkish Black
Chelsea Wolfe
Quintron & Miss Pussycat
The Night Beats
Ringo Deathstarr
La Luz
Golden Dawn Arkestra
Dungen
Federale
Ultimate Painting
Kaitlyn Aurelia Smith
Lee Ranaldo
JJUUJJUU
King Gizzard & The Lizard Wizards
Quaraishi
Levitation's Hidden Gems
-words by J Simpson
Listen to our Levitation 2016 Playlist